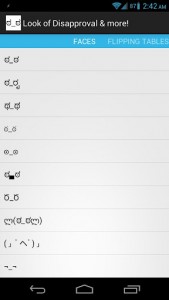 Are you rocking an all-new Galaxy Nexus or Nexus 7? If you are, you know just how cool it is to be running the latest version of Android with all of its cool new features. One small feature among the thousands of little tweaks is much improved support for special characters–and with it, fun faces like the Look of Disapproval and the Table Flipper. However, it's impossible to write these with the standard Android keyboard, and that's where Look of Disapproval comes in. It's a free app that, with just a few taps, allows you to copy most any Look of Disapproval or Table Flip you want.
Comment threads on the internet can get a little dicy. When someone says something truly awful, it's time to drag out the Look of Disapproval app and copy in a disapproving face. If it's just a little rage inducing, there's also a large selection of flipping tables to choose from, including both the Original Flip and the Double Flip.
There's an unfortunate downside to this cool new feature, unfortunately. The only Android devices supported are Jelly Bean devices, both in sending and viewing the silly emotes. Still, the ability to trade comments with those on their computers both faster and easier is definitely fun, so if you're an avid comment threader, Look of Disapproval is a must-have.
Price: Free!

Version discovered: v1.0.3
Requires: Android 4.1+
Download size: 147KB
Look of Disapproval on Play Store
Related Posts