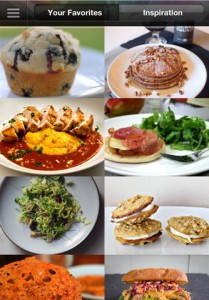 I recently learned that my best friend's aunt is considering getting an iPad to use it as what amounts to a recipe book. My eyes got huge – I can't imagine buying what amounts to a thousand dollar piece of equipment just to use it as a recipe book. However, it did make me wonder what it was about the iPad that made her even think that. I know it was one of my best friend's apps on her iPad, but as I knew the one it was, I went hunting for something different, just to see if there were any other recipe apps that would make something like that worth it.
What I found was Gojee. If you already have a Gojee account, logging into the app is simple – even if you don't have one, it gives you a simple option to create one. Either by putting in your email address and creating a password right there, or by signing in via Facebook or Google. Once you're signed in, you can begin building your list of favorite Recipes. A tap on the left of the screen brings up a series of delicious recipes, and a tap on the right side of the screen brings up a series of what look like great drinks.
On each recipe, you can pull up a card over the (always delicious looking) photo of the food that gives you the ingredients list. For the actual recipe, though, you have to click whatever site it's from in order to get the full recipe – but if you're the kind of person who can see from ingredients how to put a recipe together, you might not even need to do that. My brother's one of those people – give him a list of ingredients and tell him what it's supposed to make, and he'll make it. With or without a recipe. And if there is a recipe, he'll find a way to improve upon it that you'll never be able to replicate on your own, not that it annoys me or anything…Anyway.
You can add recipes to your favorites, you can "dislike" recipes, and one of my favorite features is that you can click "I Have", tell the app what ingredients you have, and then when you choose a recipe, it will divide the recipe list into what you have already and what you don't, the easier to make a shopping list with. Another cool feature is the ability to search by type of food in the top search bar. I searched for "salmon," one of my favorite types of fish, and quickly got 50 recipes specifically involving salmon. I could've refined that to raw, smoked, or cooked according to the suggested searches it gave me.
My only annoyance with the app was that it doesn't appear to have a portrait setting. So it was awkward to work with it while the iPad was in it's dock, charging. It remains in landscape mode, forcing you to turn your head to read it. I tried to find a way to change it, but there doesn't appear to be one.  Other than that, though, this is a great app for finding recipes.
Price: Free
Version reviewed: 1.3
Requires iOS 5.0 or later
Download size: 10.7 MB
Related Posts