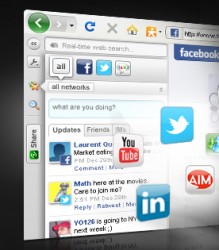 I love bringing you all reviews of wonderful browser add-ons that will make your life easier. Any time I hear about something that consolidates services into one convenient place, I know I have to review it for you wonderful people. I like sharing things that work…and I like warning people off of things that don't.
Yoono is a browser add-on, in this case specifically for IE. The company also has add-ons for other browsers, and even a desktop application. The aim of it is to consolidate all of your social networking sites into one convenient window for sharing to multiple platforms at once. Twitter, Facebook, LinkedIn, FriendFeed, MySpace, YouTube, even Gtalk, AIM and more are supported services. I have quite a few of these, so I anticipated being able to test this add on easily.
I was wrong.
My first issue came in the installation. It kept telling me that IE was open when it wasn't, and so it wouldn't install. I ended up having to restart my computer before it would install. Once it did, I opened IE. There in my IE, just under the menu bar, was a new little button. It looks like a little yellow man with a drop down arrow next to it. I expected to click this and be presented with a way to log in to all my social networking sites – I wasn't. Instead, a blank white pane slid in from the left side of my screen, and a gray bar appeared in the center of my screen. The screenshot to the left is what my browser looked like at that point (yes, that's my screen – I took that shot myself).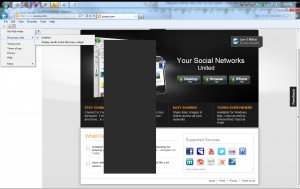 I tried repeatedly to make the add on work. I uninstalled it and reinstalled it just to check if it was a bad install. Same issue. I searched their site to see if maybe it wasn't compatible with the latest version of IE, which I have. No documentation at all. No hints, no anything. I have to hope that the other versions of this add-on for other browsers, and the desktop application work better than the add-on for IE, because as far as I can tell, it simply doesn't do anything but take up space.
If I'm wrong, please, someone let me know what I did wrong and I will gladly edit with an updated review. But as of right now, Yoono seems more like no-go, to me.
Price: Free
Version reviewed: 6.1
Requires: Internet Explorer, Windows NT/98/Me/2000/XP/2003/Vista/7
Related Posts