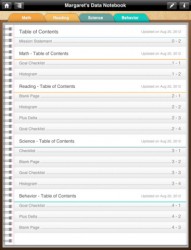 I was homeschooled – I want that to be very clear – so my perceptions of what's normal for kids to carry to school might be a bit out of whack, seeing as my experience of "real" school was was shaped solely by mid 90s TV… shows like Full House and Step By Step. However, I got the impression that one of the normal things that kids take to school are thick notebooks for taking notes in all their various classes. I wouldn't know – I sat at the dining table with all my books and switched from one subject to the next before I was done for the day. But if I did have to carry that huge notebook-filled backpack, I would have wished for an iPad with SAS Data Notebook.
SAS Data Notebook boasts an all-in-one school organizational experience. When you first start it, you'll click the + symbol in order to add a new notebook, and fill out the information – everything from your name, the teacher's name, the school, etc. Then you can edit the image that will be on the front of the notebook (I just scribbled "My School" using the tools it offers, but you can snap a picture or choose one from your Camera Roll), and then move on to customizing the notebook for your particular workload.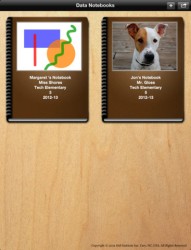 Once inside a notebook, the set up is incredibly simple. You add a "section" – such as Math, Reading, or Science – and then under the individual sections you can add a table of contents with individual topics. Each topic can have it's own information as well. Some of the things you can add to topics are sections, a histogram for charting your grades, a goal checklist, and even blank pages for taking notes and organizing them later. The convenient help icon lets you know some good layouts for ease-of-access and simplicity's sake. By the time you're finished, as you can see in the screenshots, it looks quite organized (much more than I think anyone's non-virtual school notebook would ever be).
A particularly interesting feature is the Plus Delta page, which allows you to weigh pros and cons by sticking Post-its in either column with information – such as positive and negative study habits.
I was a little annoyed that this app is more geared toward middle school and high school students than higher education. As someone who still regularly attends college classes, I'd like to have something (free) that is this user-friendly and easy to organize. However, since I like this so much, I might end up using this for my college work after all, even though that's not quite what it's designed for. While I'll be playing with this more in the future, I have yet to find a better school organizer app that is free.
Price: Free
Version reviewed: 1.1
Requires iOS 5.1 or later
Download size: 13.0 MB
SAS Data Notebook on Apple App Store
Related Posts