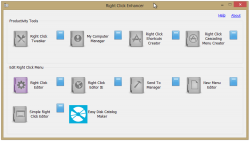 Every time you right click on a file or folder, it brings up the context menu. In there, age-old programs that you thought you took off of your hard drive 10 years ago lurk around, waiting for you to accidentally unzip your files with the wrong program. Only a few of these originally came with Windows, though, and since the additions are all stored somewhere, you can get rid of them with specially designed programs like Right Click Enhancer.
Right Click Enhancer is split up into sections. With Right Click Tweaker, you add helpful shortcuts to the menu, while with the My Computer Manager, you can add instant shortcuts to files on your computer right below your drive listing. To add your own shortcuts to the menu, try the Right Click Shortcuts creator.
There's also editing functionality built into RCE, if you're feeling up to the task. Though I'm not entirely sure how to work it, the Right Click Editor and Simple RCE buttons both allow you to remove or hide extraneous entries from the list.
If you choose the installable verison of Right Click Enhancer, beware! There is bundled with unfortunate badware during installation. However, other than that, Right Click Enhancer is a nice little tool for adding and customizing what exactly appears where, and since it's entirely free, it's definitely worth trying out!
Price: Free!
Version discovered: v3.0
Supported OS: Windows unknown
Download size: 5.2MB
VirusTotal malware scan results: installer 2/43 | portable 0/42
Portability: Portable version available!
[via Windows.Appstorm]
Related Posts