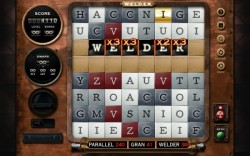 W.E.L.D.E.R. is a very addictive word game where you have to make as many words as possible given specific letters. While there are plenty of other word games like this, W.E.L.D.E.R. brings some very exciting gameplay to the table.because the gameplay is fast-paced and will force the player to give it all of his or her attention. It is great for those who are looking for a more intense word game. However, while the gameplay is fantastic, there are some options that just need some more tweaking.
W.E.L.D.E.R will start off by presenting you with a grid of letters to make words from. You make words by swapping tiles that are next to each other, including diagonals. For each word you make, you get a certain number of points. The number of points you get depends on the length of the word and on the color of the tiles. For example, white tiles get the normal amount of points, red tiles get 8 additional points, and gold tiles will double your amount of points. You continue this process until you've reached enough points to move onto the next level. The difficulty in this game stems from the fact that you have a limited number of tile swaps available to you. Even though the number of moves you have left replenishes as you advance through the game, you still have to be very thoughtful on how you move your tiles or risk wasting tiles on useless movements.
As you progress through the levels, you will be awarded various different types of moves to use. These moves include being able to move multiple letters in a certain direction and even reversing the order of the letters. It is important to master these moves because they become necessary in the harder levels.
W.E.L.D.E.R. truly has excellent gameplay; however, there are few aspects that keep me from loving this game. The first is that it is relatively easy to mistakenly swap the wrong letter. This is due to the fact that all the letters are aligned very close to each other. Even though you do have 3 undos during the course of a level, I hate using one on an easily avoidable mistake. In addition, there are in-app purchases. This is very annoying because W.E.L.D.E.R. is a paid application, which means you have to pay more than once if you want to unlock all of the features.
Overall, this game is very addictive and can be tons of fun. The game can actually be very educational and benefit people of all ages. I find my vocabulary improving as I find words that I didn't even know existed. W.E.L.D.E.R. does a great job of taking academic principles and making them fun and addictive. While the game does indeed have its issues, I have no doubt that W.E.L.D.E.R. is capable of becoming one of the most popular Mac games.
Price: $5.99
Version reviewed: 1.1
Supported OS: OS X 10.6 or later, 64-bit processor
Download size: 48mb
Related Posts