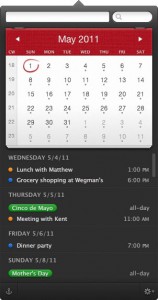 Factasical is a very intuitive application aimed to give you a better calendar experience on your Mac. With all of the features it packs, it could very easily replace iCal as your daily driver and the way in which the user interface is designed has really made the application mold more into the operating system. Fantastical will make keeping track of everything much easier and much more enjoyable. However, in its current state, there is no way can Fantastical make iCal obsolete.
What's different about Fantastical than other apps is that there is no official window — it does all of its magic through a drop down window from your menu bar. After installing, Fantastical's icon will appear in the top right of your menu bar, and clicking on that will show the application.What's so great about Fantastical is that it supports natural language. All you have to do is type in "lunch with jon on monday at 2pm" and Fantastical will automatically schedule it. It works with shopping too. If you type in "remember to buy snacks on saturday" Fantastical will set a reminder for you. Of course you get basic calendar functions like different views, customizable numbers of events, and built in task support. The typical view when you click on Fantastical's icon is a traditional calendar at the top of the window, and a list of your upcoming events right below it. It's extremely simple and aims to be noninstrusive and interrupt you as little as possible.
Unfortunately, most people are still going to have to use a secondary application like Google Calendar or iCal with Fantastical because Fantastical does not let you delete events or really do much editing. So if you are following a schedule that is constantly changing, then you're going to want to do all the heavy editing in a more intensive application. In addition, if you setup a reminder, you cannot enter a specific time. This is annoying if you don't have an actual event going on but still wanted to be reminded at a specific time. The only way of fixing this is by entering it in as an event, even though it will change the label (i.e. reminders don't have the ability to set specific times but events do).
Overall, Fantastical will undoubtedly make most users' calendar experience better. Even if you still have to bounce back to another service every once in a while, Fantastical can be your daily driver. I think Fantastical truly has the potential to make programs like iCal no longer needed. With a little more refinement the application will be a really strong winner.
Price: $9.99
Version reviewed: 1.3.3
Supported OS: OS X 10.6.6 or later
Download size: 10mb
Related Posts