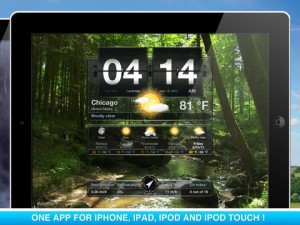 I live in California. My parents live in Texas. I have friends in Montana, Oregon, and Ireland, among other places. I also enjoy knowing what the weather is like, both where I am and where my friends and family are. Weather+ has an incredibly simple interface for doing just that.
The app uses your GPS to set its first weather screen to your location. The screen features a clear readout of the local time, the date, the degrees (you can switch between Fahrenheit and Celsius in the settings), a five day forecast complete with high and low temperatures, the moon phases, the time of sunrise/sunset, the humidity and barometric pressure, as well as the direction and speed of the wind. The only down side is the banner ad across the bottom of the app at all times. If it really bothers you, you can remove it by buying the $0.99 version from the App Store.
Tapping the "i" in the corner or dragging up will expose the settings and the ability to add more places. When you add more places, you navigate between all places you have added via the main screen with a simple swipe. The app features many different ways to display it's information, all laid out in the widgets menu in settings. You can also choose between dark widgets or light (mostly transparent) widgets.
With the wealth of weather information at your fingertips with this app, I'll definitely be keeping it for awhile. After all, now I know it's raining in Dublin, Ireland. And that is very important. Yes.
Price: Free ($0.99 ad-free version available)
Version reviewed: 2.0
Requires iOS 4.3 or later
Download size: 140 MB
Related Posts