In my family, recipes are like holy grails that everyone hopes to one day possess. Handed down from grandmother to mother to daughter across generations (and okay, sometimes grandmother to granddaughter), sometimes these recipes are written on old, yellowed, frail recipe cards with the careful hand of a person long since passed from this world. Since I'm somewhat of a packrat, I'd much rather copy the recipe down somewhere new and preserve that old bit of history in a scrapbook somewhere, then have it continue to sit in the kitchen and get cake batter on it year after year until it's unreadable.
But papers get lost and rewritten recipes have a way of vanishing from the kitchen while the old ones persist – eternal like some sort of bastion against the future. Well, I finally found a way to save those old recipes forever, and make sure that they'll never be lost again – even if the old, yellowed recipe card one day crumbles to dust. That brilliant vault for recipes past, present, and future is non other than My Recipe Book.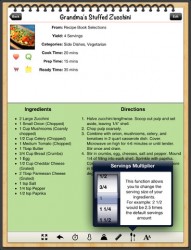 Available for a cheap $1.99 from the App Store, My Recipe Book is a very user-friendly way to store all your recipes and even get more from AllRecipes.com and other popular recipe sites with the useful "Import From" feature. You have to manually enter your own recipes and when you're adding a recipe, you can choose from all sorts of measurements – from the standard cups and teaspoons, to your own inputted measurements. My fiancee's great grandmother used "half an eggshell" as a measurement – this allowed us to keep that convention, though I don't really like the idea of pouring milk into an eggshell.
Once your recipes are put into the app, they are automatically sorted by category – Dessert, Meat, Entree, and Poultry are just some of the categories the app sorts recipes into for ease of retrieving them later. (The Desserts section of mine is particularly full, followed closely by Meats.) The app features a search function so you can quickly call up your favorites, and a simple easy layout that can sort recipes via how long it takes to cook – there's even a randomizer feature called "Suprise me" that will bring up a random recipe which is very fun for playing dinner roulette. You never know – you might end up having a chocolate cake for dinner if you stick to it's suggestions. (Or maybe that just happened to me because of the sheer number of desserts in my app.)
More than worth the $1.99, this app will  be your very best friend in the kitchen. I know it's mine.
Price: $1.99
Version reviewed: 2.9.4
Requires iOS 4.3 or later 
Download size: 10.4 MB
My Recipe Book on Apple App Store
Related Posts