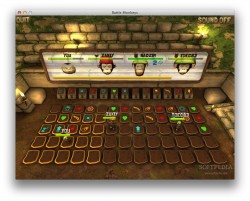 Battle Monkeys is a very addictive game that requires strategy and luck in order to beat your opponents. In this game, you control a monkey that must battle other types of monkeys.  This type of battling isn't free-for-all fighting like in Mortal Kombat, but rather strategy-type fighting that is similar to a board game.This game is extremely fun and very unique. However, there are some financial restrictions that make this game a little annoying.
You begin the game by selecting a monkey to play with. When you first start, only one monkey will be available. Once you pick your monkey, you get placed onto the game board with 3 other monkeys. The game board is a bunch of tiles with different icons on them. The icons on the tiles represent the attacks that are available.. You are then given a jump radius that will show you the exact tiles that you are allowed to jump to. Once you jump to a tile, you will use the attack you land on against the other monkeys. The tricky part is that every round, the tiles move down one level. This means that you must anticipate where the attack you want is going to be before you jump there.
In addition to great gameplay, Battle Monkeys also has some other cool features. Once you unlock everything in the game, you will have access to a complete range of monkeys. These monkeys range from baboons and orangutangs to gorillas and chimps as well. You can also customize your monkey with 1000s of different outfit combinations that are available. In addition, there is a live multiplayer mode available. This will allow you to play instantly with other Battle Monkey players all over the world. The final addition that ties the entire experience together is the fact that this game has very realistic sound effects and terrific graphics to match.
Unfortunately, Battle Monkeys forces you to spend real money in order to get the most out of your gaming experience. In order to unlock all of the available monkeys, you must use a combination of coins and gems. Coins are free as they are earned after every win. Gems however, can only be bought from the game's store with real money. This is rather unfortunate because it takes away from the fact that this game is labeled free.
Overall, Battle Monkeys is a really fun game that will keep you entertained for hours. The developers really did a great job of keeping this game unique and enjoyable. The in-app purchases don't really get in the way of gameplay because it is not essential to unlock all of the Monkeys. That being said, Battle Monkeys is a great form of entertainment and is undoubtedly the funnest free game in the Mac App Store.
Price: Free
Version reviewed: 1.1.2
Supported OS: OS X 10.6.6 or later
Download size: 37mb
Battle Monkeys on Mac App Store
Related Posts