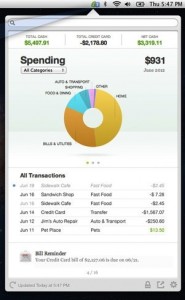 Mint QuickView is a great application that acts as a portal to Mint.com's services. For those of you who aren't familiar with Mint.com, it is a financial service designed to keep track of your spending. It can keep track of bank and credit card accounts, investments, and even loans and other types of debt. While Mint QuickView can be incredibly useful if you are using a well-known bank, it can be troublesome if you are using a small, independent bank.
It is important to note that Mint QuickView cannot be used if you don't have a Mint.com account. So your best bet is to create a Mint.com account first, and familiarize yourself with the basic functionality before you decide to purchase Mint QuickView. Mint QuickView will give you access to all of your Mint.com information through a simple icon in the top menu bar. There is a great badge that will appear on the icon that will alert you to new transactions and financial alerts. In addition, it will give you quick access to your cash flow monitor. This is hands down the best service provided by Mint.com and it's great that Mint QuickView makes it only one click away. In addition to the monitor graphs, Mint QuickView is password protected so that nobody else can see your financial information. With the use of the syncing feature. Everything you do in the application will automatically sync to Mint.com and the mobile apps if you have them installed on your phone or tablet.
One unfortunate aspect of Mint.com is the bank selection. Generally speaking most users have no problem adding their banks to Mint.com. However, if you are from a small town or are a part of a small bank, then there is a good possibility that your bank will not show up in the list of banks. If this is the case, Mint.com offers a feature where you can request that they add your bank. Whether or not you have success is up to Mint.com's administrators. If you cannot add your bank, then Mint.com won't be able to automatically pull your transactions and you will be forced to manually enter them.
Overall, Mint QuickView is a fantastic window into a fantastic service. Combining the amazing features of Mint.com with the convenience of Mint QuickView will give you great control over your finances. While entering transactions manually is very inconvenient if your bank is not supported, the additional features included with Mint.com should still be quite useful. This application is a great companion to an already fantastic service.
Price: $4.99
Version reviewed: 2.0.0
Supported OS: OS X 10.6 or later, 64-bit processor
Download size: 4mb
Mint QuickView on Mac App Store
Related Posts