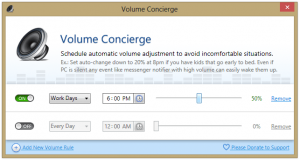 Are you an evening computer user? Many people are, but at the same time, many people choose to sleep or otherwise rest during the same time. If someone in your household or workplace doesn't want your volume up high at certain times of day, set your computer to automatically lower it with Volume Concierge.
Volume Concierge is a simple program. It's based on "Volume Rules": you select which days the rule should be active, the time at which it should be active, and the percentage volume it will change your volume to. At the scheduled times and days, your volume will be automatically lowered to the specified value.
When installing Volume Concierge, be aware of three things: by default, it'll install CleanMyPC on your computer. Pay close attention to the installer! It also automatically adds itself to startup. While necessary for the proper use of the program, if you're just trying it out you may object. The last annoyance it has is the required free registration: it'll prompt you for an email. Any random email address will work, and it doesn't require any link-clicking. I strongly recommend against using your real email address.
Though it comes bundled with several setup annoyances, Volume Concierge is still useful once it's done being set up. If people are constantly complaining that your computer is too loud at a certain time, or you feel that your computer is too loud, Volume Concierge is the perfect tool for lowering your volume at certain times of day.
Price: Free!
Version discovered: unknown
Supported OS: Windows unknown
Download size: 1.9MB
VirusTotal malware scan results: 0/41
Portability: Requires installation
[via Raymond.cc]
Related Posts