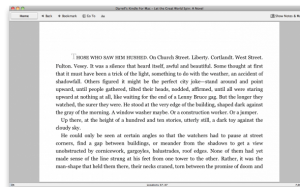 The Kindle application for Mac is a great little app that will let you read and organize all of your Kindle books. This is a great idea as some people prefer reading in a larger screen instead of on smaller phone or tablet screens. This application has done a great job of bringing the gorgeous interface that is on popular mobile devices to the Mac screen. Unfortunately, there are some aspects of this application that can be rather limiting.
The Kindle application for Mac will allow you to use all of your purchased books from Amazon. The user interface is truly elegant and makes reading books surprisingly enjoyable. When you launch a book, you are presented with the first page, in addition to some other options like the cover ans table of contents. When you want to turn the page, you can do so three separate ways. You can either click on the on-screen arrows, use the keyboard arrows, or use your scroll wheel on your mouse. This is great because it makes reading a book as convenient as possible. You also get a terrific search feature to search anywhere in the book. In addition, the Kindle app supports full-screen view so you can easily submerse yourself in your content.
The Kindle app will directly connect with Amazon's bookstore, giving you access to over 1,000,000 books. There are quite a lot of free books available so you can get started reading right away. In addition, you can get free book samples before you decide to buy a book so you can be certain you will enjoy it. The app offers great customization features so you can change the background and font while you're reading. What's great about the app is that it has a built-in dictionary so you can easily understand any confusing words you may come across. Becasue it's linked to your Amazon account, you will get all of the great syncing features when you switch to a phone or tablet.
A big issue with the app is that it currently doesn not support Apple's new retina display. This is unacceptable because this is the exact type of application that would truly benefit from such a feature. In addition, this application doesn't let you import your own books. It would be truly great if you could upload your own PDF files and still enjoy all of the great syncing features that makes this app so popular.
Overall, this application is a real winner. It provides simple and easy to use services that act exactly like they should. While it does have some annoying limitations, it still remains a terrific application. It is without a doubt the best way to read books on your Mac. However, if you are looking for an application that will accept your own books that you did not buy from Amazon, then your best bet would be to look elsewhere.
Price: Free
Version reviewed: 1.10.3
Supported OS: OS 10.6 or later
Download size: 39mb
Related Posts