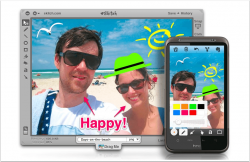 Skitch is an application that will give you access to powerful graphics tools. You can use these tools to either create something from scratch, or modify any already existing photo. Skitch can serve as a tool for graphic artists, or it can easily be used by business users looking to modify pictures for clients or presentations. While Skitch is a great application for these uses, there are some annoying aspects that keep it from being my primary application.
Skitch allows you to express yourself using graphics. It let's you add arrows, shapes, sketches, and text annotation to get your point accross. This is great because the possibilities are endless as Skitch can literally benefit all different types of people. While you can add all these great things to image so that someone can better understand it, you can also use all of these aspects to create a completely new image. This will allow you to create things like workflow charts, idea pitches, and even advertisements. Skitch of course has basic photo editing features like pixelation, repositioning, and recoloring.
If you are an Evernote user, you will find even more use for Skitch. Skitch syncs with Evernote so you can access images and annotations on any computer or device. This is because you can create Skitch notes to appear right alongside your Evernote notes. This allows you to search for anything, including hand-written text inside your Skitch notes. Using Evernote will also make it easy to share your Skitch work with your friends, family, and co-workers.
While Skitch is a good application for modifying pictures, it falls short in several areas. For one thing, Skitch is a rather slow program as I find myself staring at a spinning beach ball consistently. While the integration with Evernote is great, it is constantly coming up with a screen urging you to open an Evernote account if you don't already have one. The last thing I want from any application is it nagging me to open more accounts. In addition, the way it handles screenshots is very inconvenient. Let's say you want to take multiple screenshots of your Mac and edit them in Skitch. If you take one, you must either save it or discard it before you take another. This is very inconvenient because I personally do not like having all these screenshots clog up Evernote. In addition, it appears as though the older version of Skitch did not have these problems. This to me suggests that the developers have gotten lost and forgotten what Skitch's core functionality should be. Let's just hope this stuff is fixed in the next update.
While Skitch is a great program for conveniently modifying images, the downfalls of the application are just annoying. While anybody can still get great use out of it, I just don't understand why they designed the application the way they did. All that being said, Skitch's core functionality is still quite useful, and if someone can find their way around the annoying quirks, they will find themselves truly benefiting from Skitch.
Price: Free
Version reviewed: 2.0
Supported OS: OS X 10.7 or later, 64-bit processor
Download size: 12mb
Related Posts