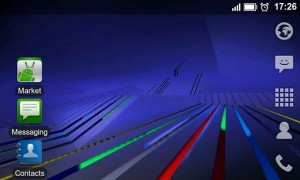 Honeycomb was the first version of Android in which design actually mattered. In it, the sleek modern style that continues on in Ice Cream Sandwich and Jelly Bean was first discovered, and with it came a series of live wallpapers from both Google and developers wishing to further the cool designs. Honeycomb Live Wallpaper is one of those, and it definitely brings a flashy feel to boring devices.
Most devices recently have been released with user interfaces designed to protect the user against themselves–Samsung's bubbly NatureUX comes to mind. Honeycomb wasn't like that, and neither is the Honeycomb Live Wallpaper. It's chock full of options and settings, and is much more edgy than a droplet of water falling into a pool.
Though you may not be able to tell it in the screenshot above, the flares in the channels are actually animated and coming towards you. Though the overall wallpaper doesn't match up very well with most icons, it's still a nice look and is definitely a great way to make your device stand out. Unfortunately, it does lead to a large amount of dropped frames while you're scrolling.
While the Honeycomb Live Wallpaper is nice, it's sad that it leads to such a high number of dropped frames. It's the type of wallpaper you want to love, but can't. It's also difficult to match up to your icons, and can at times feel a little overkill. Still, if you like the visual style introduced in Honeycomb, it's definitely a worthy download.
Price: Free!

Version discovered: v1.1.0
Requires: Android 2.1+
Download size: 2.0MB
Honeycomb Live Wallpaper on Play Store
Related Posts