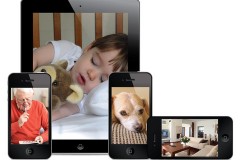 Splashtop CamCam provides live streaming video from any computer's webcam. All you have to do is download the free streaming software on the computer containing the webcam and app will do the rest. You can literally turn your computer into a live pet or nanny cam.
I have been using Splashtop CamCam for several months and have enjoyed how easy it is to use. I could definitely see users placing a computer & camera in their small child's room to check on them even when they are home. Those users will have quite an easy time setting up Splashtop CamCam, as the app will automatically discover your camera if the software is present on the computer.
The developers also created a internet discovery method for access outside your network (i.e. over 3G or 4G) utilizing a Google username and password. If you don't have one, you could go the old-fashioned root and use your network IP address and forward some ports, but that is not recommended for most users. You would also have to go the dynamic DNS route as well, because most cable companies using dynamic IP addresses (i.e they change intermittently).
As a whole, this app just plain works, but it is missing some features. The quality of the picture seems to suggest that the app is not in high definition, so don't expect awe-inspiring results. There are indeed similar apps out there that have clearer pictures. You also cannot speak through your computer with this app, so if you are looking for that, you won't find it here. The ability to take screenshot photos would be a nice feature as well. To me, $9.99 is quite steep for a camera that doesn't have a ton of features. Since Splashtop often has sales on its apps, so you might want to wait until then in order to test out the software.
Price: $9.99

Requires: iPh0ne/iPod Touch/iPad; iOS 4.1 and up

Download size: 5.4 MB
Related Posts