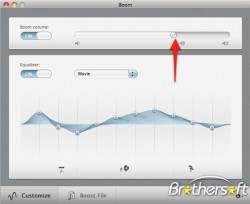 Boom is an application for you Mac that will increase the volume output. This is very useful because the default volume is very low. This application is perfect for those who don't have a speaker system or for those who are constantly on the go. This app will boost your Mac volume without any additional hardware.
What is it and what does it do
Main Functionality
Boom installs a secondary volume control in your top menu bar. If you already have your traditional volume all the way up, you can then click on Boom and crank it up even further. It kind of makes you wonder why Apple didn't include this volume by default when Macs are clearly capable of producing higher volume.
Pros
Boosts overall volume of your Mac
Won't damage your internal speaker
Remains in the menu bar and out of your way
Includes equalizer control
Can boost individual files
Cons
Sound becomes distorted when up all the way
Uses secondary control instead of primary control
Discussion
Boom is a fantastic program that will increase your volume from a variety of angles. The most basic function is that it simply boosts your system volume. All you have to do is click the icon in the menu bar and crank up the volume. While it's great that it does so unobtrusively, having a secondary volume control is somewhat annoying. I wish that the feature was built right into your normal volume control so you don't get confused by juggling two different controls
Boom will also boost individual files' volume. This is especially useful for music and video files that aren't optimized for normal computer speakers. However, be very careful when adjusting the volume. I have found that if you turn Boom up too high, then the resulting sound will be distorted. This is not good because a higher volume is not worth the loss of quality, especially for music files.
Boom will also give you access to a great equalizer, making this application a must have for music lovers. The equalizer actually makes it easier to keep the sound from getting distorted, however, it doesn't remove the problem completely. I can only assume that this problem is the reason Apple didn't increase the capable volume that Boom features.
Conclusion and download link
Boom is truly a great piece of software and absolutely worth the money. If Boom integrates the volume control with the system volume, then it will be nearly perfect. However, I don't think that the distortion problem is really fixable so that will still be something that will always hold the application back. While it is an issue, it is something that doesn't always occur so it is a relatively minor inconvenience.
Price: $6.99
Version reviewed: 1.5.1
Supported OS: OS X 10.6.6 or later
Download size: 8mb
Related Posts