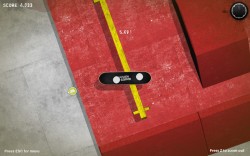 Touchgrind is a game where you control a skateboard with your 2 fingers. It bears a shocking resemblance to those old Tech Deck skateboards you used to play with when you were younger. It is hours of fun and will undoubtedly be a big hit with all skateboarding fans.
What is it and what does it do
Main Functionality
This game uses a very realistic approach to virtual skateboarding. While It is incredibly challenging, it will still keep you busy for hours. It takes quite some time to master the controls so this game will serve as a perfect time killer. This game matches the true physics of skateboarding pretty well, so if you are currently learning how to skateboard, then this game could actually help you out.
Pros
Incredibly realistic game play
Easy to understand
Innovative finger controls
Real physics simulation
Perform tons of tricks in endless combinations
Multiple skateboards to choose from
Cons
Incredibly difficult touch controls
Overhead view can be frustrating
Only one map available
Only supports multi-touch trackpad or Magic Trackpad for iMacs
Discussion
Touchgrind is a skateboarding game that uses very realistic touches to control the gameplay. In fact, you might even say it is a bit too realistic. If you are a skateboarder and understand the physics of the sport, then you will have no problem adjusting to this game. However, if you have never skateboarded in your life, then you might be in for a steep learning curve. That being said, once you master the controls, you are in for countless hours of fun.
Not all aspects of the game are difficult. In fact the overall game play is rather easy to understand. You just skate around. This is because the physics are very real and very logical. The trick is to just get your fingers used to it. Once your fingers know what they are doing, you'll find the finger cointrols to be really quite brilliant. Unfortunately the point of view the game gives you is an overhead view. While this is great to control the location of your fingers, it is terrible for seeing where you're going in the map.
Touchgrind offers you a lot of choices while playing the game. You can choose from many different boards depending on your taste. Once you pick out a board, you can then begin to skate around using your 2 fingers.  You can perform tons of tricks, as all of the popular ones are doable. You can even link tricks together once you get decent enough. One unfortunate aspect is that there is only one map to skate around on. Hopefully this is fixed with a future update.
Conclusion and download link
Overall, this game is just a ton of fun. However, you must be prepared to spend a lot of time trying to master the controls. This will take a lot of practice so please be patient. I think if Touchgrind were to offer more maps and a better point of view, then it would be a near perfect skateboard simulation. The only major aspect is that this game requires multi-touch, which means some people have to buy new hardware just to play it, which honestly, just isn't worth it. The amazing physics response really makes this game one of a kind.
Price: Free
Version reviewed: 1.2
Supported OS: OS X 10.6 or later, Must have multi-touch trackpad
Download size: 9mb
Related Posts