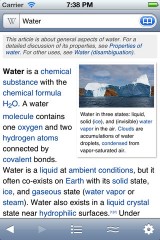 Wikipedia is a popular non-profit encyclopedia on the web. It differs from a print encyclopedia in the sense that it is constantly updated by its members, any of which can edit the site. Over the years, it has quickly grown into one of the more popular reference sites on the net. Wikipanion is a utility that allows you to access Wikipedia easily and quickly.
What is it and what does it do
Main Functionality
Wikipanion is an excellent resource for accessing Wikipedia articles.
Pros
Unique "table of contents" browsing feature
Multiple language support
Search bar supports smart completion of topics
Bookmarking of Wikis
Full history of previously searched Wikis
Embedded dictionary
Ability to search all related categories to the present Wiki
Supports audio content
Search any word on a Wiki page
Ability to lock orientation
Ability to share links by email or through Twitter
Ability to change font size
Open items in Safari
Cons
No Wikipedia member support
Can't edit Wikis
Discussion
With so many people relying on the internet for fast and updated information, Wikipedia has become an important resource for many users. Wikipanion can provide users with an ideal interface to quell their researching needs. The app shows the entire Wiki page in a perfectly aligned mobile format for iPhone users and currently supports over 75 different languages.
One of the major features of Wikipanion that impressed me incredibly was the table of contents browsing feature. While viewing an individual Wiki, you can click on the middle button on the bottom toolbar and it will list the titles of each section. All you need to do is click on the section that interests you in the menu and you will brought instantly to it on the main page. Considering the sheer size of most Wikis after being squeezed into a mobile format, this is a great idea by the developers and excellent for power users that frequent the Wikipedia site.
Another feature of Wikipanion is a dictionary called Wiktionary that allows the user to look up the definition of any word/term listed in the Wiki. The definitions are clear, thorough, and very helpful. Much like a web browser, Wikipanion also keeps a full search history and supports bookmarking of frequented or important Wikis. It is also worth noting that the app is compatible with some of the audio components of some Wikipedia articles.
I was quite impressed with Wikipanion overall, but it would have been nice to have some type of compatibility with the member features of Wikipedia. Any member can go on and edit a Wiki when new information becomes available, but there is no inclusion of that in Wikipanion.
Conclusion and download link
Wikipanion is an excellent source for browsing Wikipedia articles. Despite the lack of member support, the developer has created an excellent app with impressive features that will help any user with their research.
Price: Free

Download size: 2.4 MB

Requires: iPhone/iPod Touch/iPad; iOS 4.3 and up

Related Posts