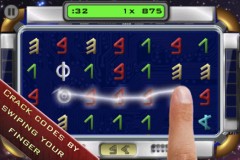 Do you like code games? Do you enjoy playing games in the matching genre? If so, then you will probably enjoy Beat Enigma Pro.
What is it and what does it do
Main Functionality
Beat Enigma Pro is a game where you match symbols by swiping over them. The more difficult matches you make, the better your score will be. You are timed, so swipe as fast as you can!
Pros
Solid game play
Addictive
Several ways to get multipliers
Cons
Not terrible graphics, but could be better
Matches sometimes don't register
Swipes sometimes get stuck
Only one game mode
Discussion
Beat Enigma Pro wants you to crack codes to save the world! In reality though, you are matching hieroglyphic symbols to get the highest score possible in 60 seconds. The goal is to match either 3 or more of the same symbol or 4 or more of completely different symbols by swiping your finger over them. The problem is that each consecutive vertical line of symbols is moving vertically in different directions every 2 seconds. So make matches quickly or they will be gone.
Beat Enigma Pro utilizes several special symbols that you will see along the way that will assist or hurt you. There is a joker that can be used as any symbol. If you match 4 or more different symbols, you will receive a time extension symbol that can extend the next move 2 seconds. You can also get a multiplier X symbol if you crack over 16 symbols per second, which can increase your score quickly. There are also more powerful joker symbols that can turn entire horizontal or vertical lines into jokers, which would come in quite handy for scoring points. Please note that there is also a contagious spam symbol (looks like a skull and cross) that will hurt your chances to succeed.
I found that Beat Enigma Pro was quite different than the average matching game, which made it quite addictive. It is definitely challenging to get a match when you start playing, but eventually you will get the hang of it. It is worth noting that the graphics and game design of the app are not as good as most games, but that doesn't necessarily hurt the game play as it might in other games. I did have trouble with matches not registering even though the symbols were all lit up (i.e. swiped). I even hit a point where the game got stuck on a swipe and then crashed. It is worth mentioning that this could simply be from the recent iOS upgrade, but I wanted to mention it either way.
Conclusion and download link
Beat Enigma Pro is fast paced matching game that many would enjoy. Despite some obvious functionality issues that may or may not be from the recent iOS update, it is an addictive and fun game to play.
Price: $0.99

Download size: 11.4 MB

Requires: iPhone/iPod Touch/iPad; iOS 4.0 and up

Related Posts