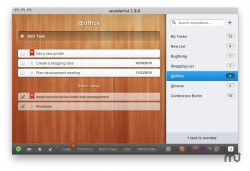 Wunderlist is a fantastic to-do application. This app is especially useful if you are the type of person who is always making lists. It becomes even more useful if you would like to share those lists with your friends or family
What is it and what does it do
Main Functionality
Wunderlist will make it incredibly easy to keep track of all your lists. It offers great sharing and syncing features that will make sure your lists are always where you want them to be. It could also serve as a supplementary agenda if used properly.
Pros
Great interface to organize lists
Cloud syncing
Share lists with friends and family
Add notes to your tasks
Sort and filter into lists
Assign deadlines and due dates
Customize wallpapers
Cons
Cannot add a repeating task
Doesn't sync with Google Tasks
Cannot sort tasks by due date
Cannot add tags to tasks
Discussion
Wunderlist has an absolutely gorgeous user interface that makes dealing with your to-dos very enjoyable. The ability to create lists to organize your tasks really keeps everything together nicely. What's great about this organization, is it carries over into whichever platform your are using. As a matter of fact, Wunderlist can be used on Mac, Windows, Linux, iOS, Android, and it even has a web interface. This means that njo matter which platform you favor, you will always have access to your lists and tasks. It will also let you automatically attach your lists or tasks to an email, making it easy to share with the people you want.
The tasks themselves are great because you can add as much detail to them as you want. You are able to add notes and even due dates. This means you always know what's going on with your tasks. Unfortunately, you cannot have a task repeat itself multiple times.  'That, combines with a lack of Google Task support might prevent some from incorporating Wunderlist into their daily lives.
Wunderlists also offers great organization through sorting. You can sort your tasks by name and date created. However, you cannot sort the tasks by their due dates. This is terrible because that is the most effective way to keep track of things you must do soon. In addition, the lack of support for tags makes it very difficult to search for specific tags if you have create a large amount.
Conclusion and download link
Overall, I think Wunderlist is a solid task-manager application. It's beautiful interface combines with the terrific customization makes it a great app to use. While there are some short-comings, these can all be easily fixed through updates. The lack of these features doesn't take away from the fact that it is still one of the most solid task-managers available for your Mac.
Price: Free
Version reviewed: 1.2.4
Supported OS: OS X 10.6.6
Download size: 8mb
Related Posts