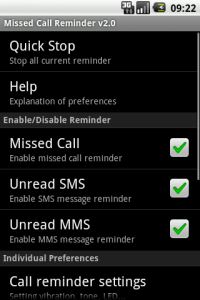 If you for some reason miss a call and don't notice it–say you're in a meeting or have your phone on silent–you won't notice it until you turn on your phone's screen and notice the icon in your notification tray. This can lead to calls being returned hours later than they should be, and overall bad things happening. With Missed Call Reminder, you won't have to worry about any of that, as it can automatically remind you every few minutes.
What is it and what does it do
Missed Call Reminder is a simple program. It's set-it-and-forget it, and allows you to set up vibration, LED, sound, and even on-screen notifications every few minutes until you dismiss it. It's not just for calls, either: it works for texts and multimedia messages as well.
Pros
Supports not just calls, but SMS and MMS as well
Allows you to select what exact type of notifications you want (LED, vibration, etc)
Flexible reminder durations and frequencies
Optional automatic silence when your phone is on silent
Cons
Doesn't stop vibrations after opening messages/call log, only stops next set
It's quite lacking in the design department
Does not work with all/any 3rd party dialers or calling services
Requires you to open call log/messaging to stop notifications
Missed Call Reminder comes set up much like most people would like it. It automatically enables missed call, SMS, and MMS alerts, and will automatically vibrate your device and turn on its screen for five seconds until you dismiss the notification. It'll do this by default every 10 minutes for up to four hours, at which point in time it'll stop giving you notifications.
However, just because Missed Call Reminder comes set up with a nice set of defaults doesn't mean it isn't nicely customizable. Throughout the various settings windows, you can change the notifications for calls and messages independently, including the tone, the LED color (if any), and whether to vibrate and turn on the screen. At the bottom of the main screen is also the ability to set a custom reminder duration, interval, and max time.
When I tested Missed Call Reminder, it came with one major drawback: rather than stopping the incessant buzzing I'd set it to do after I opened Messaging and read the message, it continued to buzz until I opened the app and tapped on the universal Stop feature. This is definitely a major hassle, and is supposed to work. Opening the Messaging app only stops the next set of notifications from appearing, not the ongoing set, and if you have vibrate set to On, this can be very annoying.
Conclusion and download link
Missed Call Reminder is definitely useful to a certain set of people, and its periodic reminders are definitely helpful. The issue of the continuous vibrations are almost a deal killer for me, but if you can stand them, it's definitely a helpful app. All other features worked as advertised. It'd definitely be nice however to have it automatically disengage the alarms when the phone is unlocked, rather than when the messaging/call log is opened, as many calls are simply not important enough to warrant looking in to, but overall it's certainly overall a well-written app.
Price: Free!

Version discovered: v2.1
Requires: Android 2.1+
Download size: 51KB
Missed Call Reminder on Play Store
Related Posts