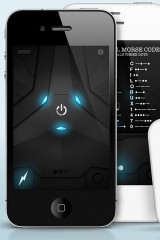 It is not hard to find a utilities app on the App Market. It is even easier to find a flashlight app. The majority of apps in both genres are either free with ads or paid without them, although there are a few exceptions. In reality, the functionality of the iPhone never changes, so the only way to make an app better is through the user interface and putting the right tools together in one app. Due to the surplus of apps in these genres, I would normally not do a review on one, but I found Ultra Utilities! + Flashlight to impressive enough to do so.
What is it and what does it do
Main Functionality
Ultra Utilities! + Flashlight provides the user with 5 common utility tools, including a flashlight.
Pros
Gorgeous user interface
Tremendous functionality
Impressive segues (from one screen to another)
Flashlight with several features
Both a spirit level (the typical one) and a surface level
A ruler
A clever tip calculator
Cons
None really, but could use a compass and protractor
Discussion
Ultra Utilities! + Flashlight is quite an impressive utility app. It features 5 major utility tools: a flashlight, spirit level, tip calculator, ruler, and surface level. Each tool works very well due to an incredibly designed user interface that looks like something from the year 2050. To get to each of the tools, there is a unique spin dial that places the role of utility picker in this app. When a tool is chosen, a futuristic door closes and opens again, as if you are traveling through compartments of a space ship.
The flashlight is brilliantly designed with a middle push button control switch as well as options for a strobe light and Morse code. There is even a hidden feature that automatically sends an SOS in Morse code over and over again. The ruler, spirit level, and surface level are all beautifully designed and work effortlessly. Just for informational purposes, the spirit level is the typical level people see and determines whether an object is level vertically or horizontally, while a surface level measures levelness vertically and horizontally. I felt like there were some tools missing here, as a protractor and compass would have been a nice addition.
The last utility, the tip calculator, has a quite unique design to it. It features a small calculator where you can enter the bill amount in Dollars, Euros, Pounds, or Renminbi. When click the small lit arrow under the sum you entered, the screen transforms to reveal a sliding bar where you can change the tip percentage to anything you want. As you do so, the tip amount will change on the screen above it. The majority of tip calculators have the typical rates separated at 5% intervals, so this was nice change in case you are looking to tip between those common intervals (i.e. 10%, 15%, 20%, etc).
Conclusion and download link
Ultra Utilities! + Flashlight is a rare utility app that is actually worth the price due to it's gorgeous user interface and touch controls. This is a smart buy for users looking for a quality flashlight and/or utility app that won't let them down.
Price: $0.99

Requires: iPhone/iPod Touch/iPad; iOS 5.0 and up

Download size: 8.8 MB

Ultra Utilities! + Flashlight on iTunes
Related Posts