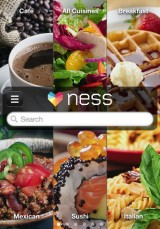 Do you just love food? Are you always on the lookout for new places to eat? If, so then Ness Dining Guide might be just the app for you. Discover new restaurants and follow what your friends are eating too.
What is it and what does it do
Main Functionality
Ness Dining Guide provides the user with a large database of restaurants, accompanied by photos and reviews. The goal of the app is to not just find restaurants, but find the best restaurants for you.
Pros
Huge database of restaurants, photos, reviews, contact info, hours
All types of cuisines are supported
Nicely designed user interface with nice segues
Personalizes the user's tastes through restaurant ratings
Ability to save favorite restaurants
Follow what friends are eating through social networks
Cons
Discussion
Ness Dining Guide provides users with an all-in-one restaurant guide. Contained in its extensive database of restaurants is full contact info and hours of operation, as well as over 3 million ratings and over 5 million photos (from Instagram). The opening window of Ness features a delightful collage of different cuisines. You can start searching for that cuisine in your area by just clicking on the picture of the cuisine. There are also several more of the most popular cuisines if you swipe to the right.
Ness Dining Guide also allows you to search for the restaurant directly by entering it into the search box. Your search options can be sorted by distance or Ness's own likeness score, adjusted by distance from your current location, or adjusted by how pricey the restaurant is. You have the option to hide restaurants that are either presently closed (great option), are big chains, or are currently rated. With such a large number of refinements, chances are you will find the exact type of place that you are searching for.
Ness Dining Guide has a smooth Facebook-style menu that appears from the left. It provides options to search,  to personalize your food interests, see a newsfeed of your friends' eating activity, see profile options, find more friends over social networks (Facebook & Foursquare), access your favorite places, change settings, and contact Ness. The personalization part of the app is a big selling point, because Ness has you rate at least 10 restaurants and then uses that to make suggestions about what you will like and won't like when you are searching the database. The more restaurants you rate, the better the recommendations will be. I rated 25 in my short time in the app, and the recommendations seem to be spot on.
Truthfully, I couldn't find much wrong with Ness Dining Guide. It does exactly what it claims and provides the user with a wealth of information.
Conclusion and download link
Ness Dining Guide is an excellent restaurant tool for finding restaurants that meet your tastes. Foodies will love this one!
Price: Free

Requires: iPhone/iPod Touch/iPad; iOS 4.3 and up

Download size: 17.5 MB

Ness Dining Guide – Restaurant Search  on iTunes
Related Posts