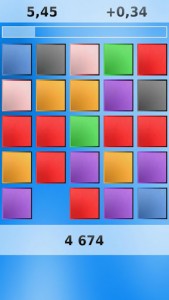 Fast-paced games are common, but simple ones are few and far between. Fun, simple ones? You'll have better luck winning the presidency. However, Tap! Tap Faster! is one of those apps that manages to break the mold. Though the concept behind it is incredibly simple, it manages to suck you in with its addictive, fun colored boxes and fast tapping.
What is it and what does it do
Tap! Tap Faster! is a game in which you simply tap on series of identical blocks to gain not only points, but time. If you don't tap fast enough, you'll quickly run out of time, and instantly
Pros
Fun and very addicting
Easy to learn but hard to master
Asks before opting you into online high score network
Small userbase means that I was able to easily score first ;-)
Makes me feel like I'm on Star Trek
Cons
Could use a little design work
Small userbase means noncompetitive leaderboards
Discussion
Tap! Tap Faster! follows a simple concept, but unless you have fast fingers, you may find it difficult to follow it: just tap on series of identical blocks for as long as possible. Each time you add one to your series, you get points and time, allowing you more time to tap on more series and get more points. It's a cool cycle of never ending fun:
Video by developer.
As you can see in the low-quality video above, the time diminishes with great haste–and it doesn't get easier over time. It does, however, build tension, and it gets to be quite nerve-wracking. Though it's quite simple, Tap! Tap Faster! manages to be quite entertaining as well.
Conclusion and download link
This is the type of game that I'd recommend for anyone who has fast reflexes and a small tablet. It may be awesome on a phone, but blown up to the size of my Nexus 7, it's even better. Even if you don't have a tablet, it's an awesome game, and its simplicity matches up perfectly with its difficulty. While it's not the best of game designs I've ever seen, it's definitely still a game that I love having on my phone and tablet.
Price: Free! 

Version reviewed: v1.0.4
Requires: Android 2.1+
Download size: 1.7MB
Tap! Tap Faster! on Play Store
Related Posts