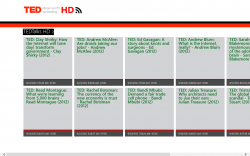 Ever seen a TED video? If not, then you don't know what you are missing. TED – which stands for Technology, Entertainment, Design – is a nonprofit organization that organizes TED conferences and talks where people give speeches on ideas or inventions they have. They're amazing to listen to, and with TEDTalks HD, you can do that from within a native Windows 8 app.
What is it and what does it do
Main Functionality
TEDTalks HD has one main function: show you the latest TED Talks. There's no searching for historical talks, no looking into talk categories, or even talk thumbnails. It's all about watching the videos.
Pros
Watch TED Talks from within a Metro-style app
Easy to load previous talks by scrolling back
Cons
No thumbnails make TEDTalks HD an ugly app
No searching for talks
No better than the website
Discussion
TEDTalks HD has the potential to be a great-looking program. Without any thumbnails, however, it won't get that, and without looking great, there's no reason to load up the app rather than simply a pinned webpage. TED's online site lets you view and sort talks in almost every way known to man, and the app simply doesn't let you do that.
There's also no sharing talks, which is another big bummer. Sharing TED talks is one of the best parts of them–sharing the  knowledge gifted to you by the speakers is one of my favorite parts of the talks, and there are some real gems in the pile of good talks.
Essentially, the entire issue of having a TEDTalks HD app is that it's no better than the website, and in many ways, is worse. If you're new to TED talks, for instance, the little selector down at the bottom of the page that lets you escape into a certain number of minutes of talks is a fun way to immerse yourself.
Conclusion and download link
The TEDTalks HD Windows 8 app is, while far from perfect, alright for viewing TED Talks. Like yesterday's PopSci app, there's really nothing offered within the app that you can not already get outside of it. The videos are all freely available on TED's website, and offered in a much nicer looking format. While there's no reason to ditch the TEDTalks HD app if you already have it installed, there's no real reason to install it.
Price: Free!
Supported OS: Windows 8
Download size: 323KB
Related Posts