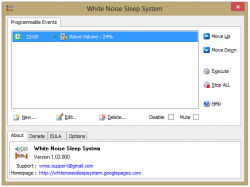 Extraneous noise can be very distracting–it's our brains trying to pick patterns out of the background. White noise can help. Random frequencies that combined create the sound from an old CRT TV on the wrong channel, white noise contains no patterns, and thus is impossible for our brains to use. If someone is being loud while you're trying to sleep or relax, play some white noise with White Noise Sleep System.
What is it and what does it do
White Noise Sleep System is a free program that lets you automatically start a certain media file, including built-in rain and white noise media files, in order to help you relax and sleep.
Pros
Built-in media files, including white noise and rain
Can set volume
event-based
Can shut down or log off computer
Allows for multiple events per time and per day
Cons
Not the best graphic design
Day based, meaning no weekly basis/weekend settings
White Noise Sleep System is designed for you to feel in control. The developer recommends using a system of rolling volume changes and audio tracks to help get you to sleep, and it works very nicely. You can add multiple alarms per time, and since they're allowed to set the master volume, can slowly fade over time while adding sounds like pure white noise and beautiful rain.
Aside from the included rain, fan, and white noise sounds, you can also choose any sound file you want. This can be a favorite song, some other kind of lulling sound, or someone smashing pots on a metal sheet–it's up to you. You can even control the volume of each track individually, meaning you can put white noise in the background of the beautiful rainy forest.
White Noise Sleep System is quite customizable. There are tons of options under each event, and with a combination of them and clever event timings, can create a great way to help you get to sleep.
Conclusion and download link
If you're having trouble getting to sleep, White Noise Sleep System might be able to help you. It's a great way to block out extraneous noises and sounds and help put you to sleep, and lets you gradually lower your system volume over the night. Unfortunately, there's no built-in fan control, meaning you're left up to the whim of whatever your computer decides to run its fans at. Still, if you're not too worried by the sound of your computer's fans, White Noise Sleep System can come in handy.
Price: Free!
Version reviewed: v1.03
Supported OS: Windows 
Download size: 9.7MB
VirusTotal malware scan results: 0/41
Portability: Requires installation
White Noise Sleep System homepage
[via Ghacks]
Related Posts