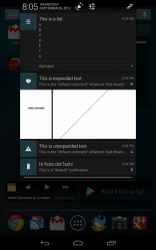 Android 4.1 "Jelly Bean" ushered in only a few major changes. One of those changes? Expandable notifications. While seemingly not a very big deal at first glance, these allow you to view whatever information you need without even leaving whatever you're doing. Notif is a free app that extends that to any text or image you might want to keep in your tray by creating custom notifications. It's perfect for a quick to-do list, reminder, or note.
What is it and what does it do
Notif lets you create custom Jelly Bean expandable notifications with custom titles, images, lists, and more. You can also make them so-called "ongoing" notifications–the type that you can't swipe away. This lets you clear your notifications and leave the important ones you created with Notif. You can store to-do lists, reminders, notes, and more in just a few seconds.
Pros
Beautiful Holo design
Works hand in hand with new Jelly Bean notifications
Multiple notification type, including images and lists
Ongoing notifications that you can't accidentally remove
Cons
Requires Android 4.1, which currently has an Android marketshare of 1.2%
Tapping on ongoing notifications doesn't open app; way to reset unclear if unknown
Low-resolution notification icon chooser
Notif is a very well designed app. Taking the Android design guidelines and running with them, it has a beautiful orange and white theme that almost reminds me of a creamsicle. Each bit of it is slathered with Holo goodness, from the settings to the icon selection dialog to the text input fields. That alone makes it a great looking app.
On the functional side of things, Notif is on top of the game as well. It has multiple notification types, meaning you can add not only regular text notifications, but expandable text notifications and list notifications as well. It even lets you add image notifications using either a picture already on your device or with a picture from your camera. If you're interested in keeping all of the notifications you've created well-separated, tap on the cog icon to the right of the titles to choose a specialized, custom icon.
If you like clearing your notifications but want your Notif-ications to stay, there's an optional checkbox just for you. The "Ongoing Notification" checkbox changes the notifications created from simple swipe-to-dismiss notifications to permanent, music player-style notifications that are impossible to dismiss. To get rid of these, open up Notif and tap the icon that looks like paper in the upper right hand corner.
Conclusion and download link
If you're running Android 4.1 "Jelly Bean", Notif is a great app to have around. No longer will you have to suffer from not having expandable notes and lists, and in a way, Notif makes the best quick notes app I've ever seen. It's certainly not designed for it, but since it allows for fine-grained control over your notifications, you can really do anything with it.
Price: Free!

Version reviewed: v0.12
Requires: Android 4.1+
Download size: 1.1MB
Related Posts