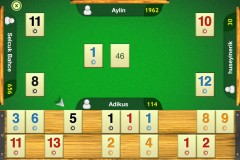 Back in the late 70's, Rummikub became a bestselling game in the United States and still is sold to this day. If you were a fan of Rummikub or like Rummy-like games, then you will enjoy OkeyOnline.
What is it and what does it do
Main Functionality
OkeyOnline is a multiplayer tile-based Rummy game.
Pros
Can invite Game Center friends to play
30 second play limit
Lists # of users online
Can join/leave a match at anytime
Voice chat*
Cons
Ads
Can't choose table to sit at
Empty spots filled by robots
Discussion
OkeyOnline is a fun multiplayer game much like the popular game Rummikub. Every player in the game is dealt 14 tiles with colored numbers on them. The goal is to change your hand until it contains all matches of a different color and/or runs (i.e. consecutive numbers) in the same color, much like the game Rummy. You can also win by gathering 7 different matches of the same color, which is called a "pair finish".
One interesting aspect of the game involves the joker involvement. There is always an indicator tile placed in the middle of the Okey board. The joker is always one more than the indicator of the same tile. So if the indicator tile is a blue 1, then the joker is a blue 2. There is an option in OkeyOnline to mark the joker in case you don't remember the joker rules. The joker can be any tile.
In terms of scoring for the game, if a player wins with a "pair finish", they get 4 points, while a typical Rummy finish garners 2 points. If you can somehow manage to make the joker the last tile discarded when you go out, then your points are doubled.
Though I think the ads are a bit distracting in a app, I liked the game and how easy it is to join a match. There are usually a ton of players online and joining one usually takes a few seconds. There is no lag that can be seen and even when players drop, the robot takes over and immediately plays their hand. I don't particularly like the concept of having a bot there, but it is a necessary evil in this type of multiplayer experience.
I enjoy the concept of being able to invite friends to play with as the familiar competition makes the game even more fun. It is worth noting that there is a voice chat feature, but I wasn't able to figure it out. That obviously would be a big plus.
Conclusion and download link
OkeyOnline is a solid, ad-supported multiplayer game. If you like Rummy type games or enjoyed playing Rummikub at some point in your life, then give OkeyOnline a try. I am addicted.
Price: Free

Requires: iPhone/iPod Touch/iPad; iOS 3.0 and up

Download size: 12.2 MB

Related Posts