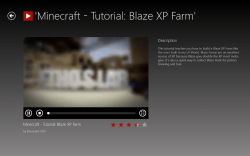 The internet is all about sharing photos, videos, music, and much much more. A large part of this is entirely YouTube, the online video sharing site that has become a home for high quality (and low quality) videos produced by everyone and their dog. Youtube Player brings that great content together with a beautiful Windows 8 app for viewing perfection.
What is it and what does it do
Youtube Player is essentially a well-designed front end for the YouTube website. Though it's not any more advanced than the website itself, it combines perfectly the beautiful Modern UI with the excellent video selection from Youtube.
Pros
Listen to Youtube in the background–great for music or lectures
Great interface with plenty of blank space
View favorites
Dark and light interface
Cons
No account management (subscriptions, video uploads, etc)
Can not view subscriptions feed
No rating/commenting
Discussion
There are around a dozen and a half apps that show up when you search for Youtube on the Windows Store. A large number of them are paid apps ranging anywhere from $1.49 to $14.99, and they all do something different. However, it's one of the free ones–Youtube Player–that's the most interesting of the bunch. Designed from the ground up as a great looking Youtube app, it's the start of the perfect way to watch YouTube on Windows 8.
Youtube Player does not allow you to log into your account yet, leaving many important Youtube features such as commenting and rating behind. Currently, it's only useful as a video playing app, hence the name. It allows you to view the standard top video feeds that appear when you're not logged in, and search for any video that you want.
A large portion of Youtube is devoted to music and books on tape. Youtube Player is great for playing these, as it leaves them running in the background. You can leave, and the audio will continue playing while the video pauses. Go back to the app, and the video will resync itself.
Conclusion and download link
Youtube Player is a great app for Windows 8. Its background playing, while seemingly a minor thing, is what seals the deal for me with Youtube Player: it's the perfect way to listen to music, books on tape, or any other non-video material on the huge website. If you're an avid Youtuber, Youtube Player is the app you need to try out.
Price: Free!
Supported OS: Windows 8 
Supported architectures: x86/x64/ARM
Download size: 182KB
Youtube Player on Windows Store
Related Posts