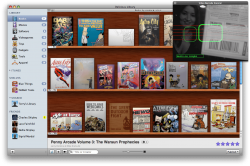 Delicious Library 2 is designed to be your one-stop application to organize nearly everything in your home. It is designed to be a catalog where you can document all of the items in your home that you may have trouble organizing.
What is it and what does it do
Main Functionality
You can scan all of your movies, music, and other objects. So when you're sitting at home and want to watch a movie, you can look in this app instead of sorting through DVD cases.
Pros
Catalog books, movies, video games, music, and much more
Easily browse and search for the items you have in your home
Scan barcodes to add items
Add contacts to items that you have loaned out to people
Cons
Crashes occasionally
No syncing features
Cannot scan iTunes or Mac App stores
Discussion
To be clear, this application is not meant to organize the digital media on your computer. It is meant to organize all of the physical items you have in your home. In other words, it will organize your physical CD and DVD collection, your videos games for your consoles, all of your books on your bookshelf, and even the clothes you wear. This is an amazing concept because you no longer have to fiddle through bookshelves or collections of media when trying to decided which movie you want to watch. You can just hop on your computer, and browse all of your possessions, then easily pick out something that interests you.
A fantastic feature is the way in which you catalog items. Using your iSight camera, all you have to do is scan the barcode, and that item will automatically be cataloged along with all of the useful information about it. This is absolutely genius because it makes cataloging a bunch of items absolutely simple. In addition, let's say you loaned a book out to a friend. You simply drag that item onto the name of the friend who borrowed it, and Delicious Library will remind you that they currently posses it.
While this is such an amazing app, there is a couple of missing features. The big one is that there is no cloud syncing. To be honest, this is the only feature really holding this application back. Having access to your home catalog on your phone will be incredibly useful seeing as your computer may not always be conveniently available. In addition, while this app does scan your iTunes library for music that you own, it will not scan the iTunes App Store or the Mac App Store for software that you own. This is undoubtedly because it is not meant to be a digital media organizer.
Conclusion and download link
I'm going to be honest here, this application is essentially perfect. It has taken a fantastic idea and perfected it. The only thing missing is sync support. I am hoping that this will come with a future update as it will undoubtedly brand this application as being one of the best organization tools out there. I highly recommend this application to anyone who has an extensive, physical collection of media.
Price: $34.99
Version reviewed: 2.7.8
Supported OS: OS X 10.5.0 or later
Download size: 14mb
Related Posts