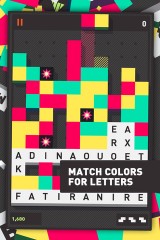 Do you love falling block games such as Tetris? Are you always on the lookout for another fun word game? Believe it or not, Puzzlejuice will satisfy your craving for both.
What is it and what does it do
Main Functionality
Puzzlejuice is a falling block game that also seconds as a word and color matching game. It provides the best of so many game genres into one.
Pros
Falling block, color matcher, and word matcher all in one
Two different game modes
Local multiplayer
Built-in dictionary
Cons
Discussion
I have to hand it to the developers of Puzzlejuice. The game is simply ingenious in concept, given that it finds a way to blend different popular game genres into one without it resulting in a garbled mess. It is quite the contrary actually, with excellent gameplay and a challenging multitasking concept embedded, this game is intriguing to say the least. There are also 3 different skill levels, which I thought was smart to do, given the many things are going on at once within one game.
Puzzlejuice provides two modes, Core, which involves withstanding the constant falling blocks, and Zen, for which you are given 90 seconds where you are in full control of the blocks. I found myself playing Core mode much more as the Zen mode really wasn't my style as I don't like time limits. In Core mode, the blocks are speckled with different colors (green, red, and yellow) and your goal is to form as many colored groupings as possible. Once you have an adjacent colored grouping of three or more mini-squares, then you can touch them to reveal random letters. Note that the key to increasing your score is to wait as long as possible for several color groupings to build and then get a multiplier bonus for hitting them all in a row.
Once you have letters displayed, then you use your finger to slide along adjacent word forming letters to gain points and clear blocks. The longer the words, the more blocks you clear and the more points you accrue. There are also power-ups involved as well, for which you can choose 3 before playing a game in Core mode, that will assist you with various things along the way. Just to point out, although you do want to wait to clear color groupings (mentioned above), if you wait too long, you might end up with too many letters to deal with and lose the game (i.e. blocks hit top). But that is what makes the game so fun, is the strategies at play when finding the happy medium between the two concepts of color and word clearing.
Conclusion and download link
Puzzlejuice is an excellent blend of various game genres. It not only provides an excellent concept and fluid game play, but the multitasking required to succeed at the game creates a challenge that makes this game a solid buy.
Price: $1.99

Download size: 34.7 MB

Requires: iPhone/iPod Touch/iPad; iOS 3.1.3 and up

Related Posts