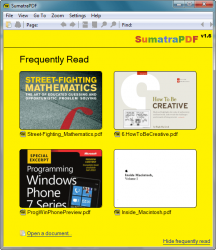 Sometimes less can be considered as more; such is the case with Sumatra PDF reader. It doesn't have all the extra features found in Adobe Reader to slow it down, and that is the reason why Sumatra hits the right spot as many users who have PDF readers only use them to read PDF files and nothing else.
What is it and what does it do
Main Functionality
Sumatra PDF is for the sole purpose of reading PDF files, and nothing else. There are no confusing features, nothing here that would have the user straying too far from the simple goal of reading PDF documents. And that's why we like it.
Pros:
Simple, easy-to-use user interface
Starts up very quickly
Designed for portable use
Cons:
Leaves a folder behind after uninstall
Discussion
Reading PDF files is a common task that is done on a daily basis by thousands of computer users, so having the right tool is very important. Sumatra PDF reader works well in this respect, because it lacks the advance features compared to the popular Adobe Reader but is very fast. Basic features like zooming in and out, book views, select single page, and facing page are all present, so the program is not too simple to the point where it is unusable.
With the built in Search Box, users can locate text within a PDF document with relative ease. The option to view PDFs in full screen and rotate pages make Sumatra PDF the defacto PDF reader for doing nothing else but reading PDF documents.
Probably the best thing about Sumatra PDF is the ability to put it on a USB drive to carry around. The software accomplishes this by being very small in size and portable. Putting it on a USB worked really well — we tested it across several different computers with different operating systems and found it to work as intended.
The only problem users might have with Sumatra PDF is the folder left behind after the program is removed. We don't like junk being left back after an uninstall, and we sure believe you feel the same way.
Conclusion and download link
Sumatra PDF is good for what it is. What it says, it can do and that's exactly what it does without any form of problems whatsoever. Apart from the junk it leaves on your computer hard drive, Sumatra is wonderful.
Price: Free
Version reviewed: v2.1.1
Supported OS: Windows XP, Windows Vista, Windows 7
Download size: 4.3MB
Related Posts