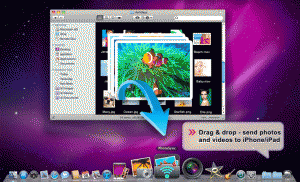 PhotoSync is a terrific app to wirelessly sync your photos and videos from your mac to your iOS devices. This application can be incredibly useful if you don't want to deal with the hassle of cables and other physical connecters. It will also be useful if you are the type that doesn't like storing your media in cloud services like iCloud.
What is it and what does it do
Main Functionality
This program is intended to simplify your life by making it easy to transfer media without a physical cable. It is meant to work directly with your most-used programs in order to make sure you are transferring the photos you want to.
Pros
Wirelessly transfer both photos and videos
Drag and drop supported
Preserves all RAW and Exif data
Can also send media from iOS device to your Mac
Can import and export directly to and from iPhoto and Aperture
iOS device and Mac will find each other automatically
Cons
Advertised as free, but isn't in reality
Cannot bulk transfer from iPhoto iOS
Cannot run in the background of iOS
Can only transfer from iOS camera roll
Discussion
PhotoSync is a very useful application that will seamlessly sync your photos and videos from your Mac to your iOS device without the use of any wires. In addition, you can also send any photo or video you may have on your iOS device to your Mac using the same process. It does this by using an active Wifi or Bluetooth connection. This is great because it means you don't necessarily have to have an internet connection to perform a transfer. Because of these connections, both your Mac and your iOS device will find each other automatically, so you won't have to worry about remembering IP addresses or pin numbers.
The interface couldn't be easier to use. On your Mac, you simply drag and drop your pictures or videos onto the app icon and they will automatically transfer if you have the iOS app available. While this is great, the required iOS app itself causes a little frustration. For starters, it costs money. Which goes against the free, advertised price seeing as you can't use the service without it. Once you get past that, you will enjoy unmodified files with all of the original RAW and Exif data. The app will automatically grab files from iPhoto and Aperture to send, and also automatically import them  from your iOS device.
While this app generally performs well, it has a few missing features. It cannot do any bulk transfers from the iOS version of iPhoto. This is extremely unfortunate because sometimes you want to export directly from iPhoto instead having to go through the camera roll. The fact that it can only send photos and videos from your camera roll is very crippling on the iOS side of things. In addition, it cannot run in the background on iOS. Which means you cannot use an app while your photos and videos are transferring.
Conclusion and download link
PhotoSync does a great job of wirelessly syncing your photos and videos. However, the iOS experience is incredibly annoying. The need for payment and the lack of flexibility makes it feel rather constricted. While these aspects are annoying, it doesn't affect the overall functionality of the application.
Price: Free (Mac), $1.99 (iOS)
Version reviewed: 1.5.1
Supported OS: OS X 10.6 or later
Download size: 1mb
Related Posts