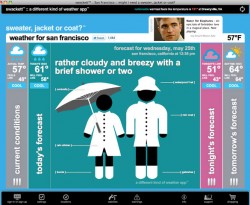 Swackett is an entirely new way of viewing the weather. This application is great if you are constantly bored by the manner in which you view your weather details. It is extremely fantastic for those who are looking for a new and exciting way of staying up to date with current weather information.
What is it and what does it do
Main Functionality
Swackett is meant to display weather in a completely visual manner. This is great for people who respond more favorably to visual stimulation rather than simple text that contains the information they're searching for.
Pros
Converts complex weather data into simple visuals
"Peeps" that change with the weather
Displays basic weather information
Includes full-motion radar
Syncs with iOS devices
Can share forecasts through Facebook, Twitter, and email
Cons
A little too much eye candy
Doesn't give advanced weather information
Has useless sub-versions
Discussion
Swackett is a basic weather application that displays your weather in a very interesting way. They provide basic weather details like daily and hourly forecasts, full motion radar, humidity, dew point, and other basic information. they present all of this information to you using strictly visual images. In addition, they provide you with peeps. Peeps are people that will change their clothing depending on the weather. This is really fantastic because you can figure out what you should wear just by glancing at what the peeps are wearing.
Swackett unfortunately does not show advanced weather information. While it shows info such as wind speed, sunrise/sunset, and precipitation, it is unfortunately missing info such as percent chance of rainfall or the actual humidity percentage. This is probably a result of focusing too much on the appearance. This has caused a little too much eye candy and simply not enough information. On the other hand, Swackett isn't meant to compete with heavily-featured weather apps, but rather provide a simple, unique alternative to what's already out there.
Swackett also includes some other, smaller features. It includes full iOS syncing. So when you install the app on your mobiles devices, it will automatically sync all of your locations and preferences. In addition, it makes it incredibly easy to share a forecast via Facebook, Twitter or email. While these features are great, Swackett's business practices are a little annoying. When looking at the other editions of the application, you may notice there are quite a few with titles like "British invasion" or "the undergrad". These are just subtle changes to the costumes that the peeps wear. But what is annoying is that they charge you for these editions. It's kind of odd to have to pay for something that won't add any functionality to the application.
Conclusion and download link
Overall, this application takes a typically routine process and turns it into something interesting. While there are a few quirks about the app, it still does a nice job of visually displaying information. The lack of features isn't really upsetting because it is only designed to be a simple application with a simple purpose. Generally speaking this app is really great and will undoubtedly entertain anybody bored by the current weather offerings.
Price: Free
Version reviewed: 1.6
Supported OS: OS X 10.6 or later
Download size: 1mb
Related Posts