Many dotTechies know about WinX DVD Ripper because it was given out on Giveaway of the Day sometime ago. However it seems now the developer of WinX DVD Ripper has made it freeware…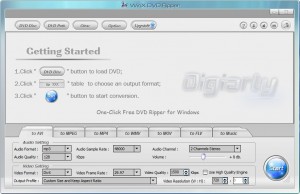 …and has added a new "Platinum" edition which you can pay $25 to upgrade to. Since it is now freeware I decided to give it a try and was partly impressed and partly disappointed by it.
What impressed me:
It allows you to rip/convert DVDs easily; very point and click.
You can rip/convert your DVDs to .AVI, .VOB, .MPEG, .MP4, .WMV, .MOV, .FLV, or even .MP3 (audio only for MP3 obviously).
It can bypass DRM and region locks.
It is fairly light on computer resources while ripping/converting only using 25-35% CPU (mainly in the high 20s) and 31-36 MB of RAM during my tests.
Good output quality (not perfect DVD quality obviously but good nonetheless).
Has the option to "keep original size and aspect".
NOTE: To do DVD -> .VOB (.VOB are DVD compliant formats so if you ever want to do a reburn you will not lose video quality) you must select "DVD" from under the " to MPEG" tab.
What disappointed me:
WinX DVD Ripper is very slow. It took me around an hour to rip a 92 minute movie.
WinXUpdate.exe uses around 50% CPU constantly while I have WinX DVD Ripper running. It doesn't even seem to be updating anything considering I just downloaded the software.
However those two disappointments have easy works arounds. For the first disappointment just rip your DVDs at night (there is an option to automatically shutdown your computer after ripping has finished). For the latter disappointment go to the folder where you installed WinX DVD Ripper (by default it will be C:\Program Files\Digiarty\WinX_DVD_Ripper) and delete WinXUpdate.exe. Of course you will have to manually update WinX DVD Ripper after that but hey it is better than letting it eat your CPU.
Of course the two disappoints are cons for this program but considering it is a freeware DVD ripper that can bypass many (if not all) DRM/region locks and has many options for video output formats, I think WinX DVD Ripper is a fairly handy program for those who need DVD ripping yet can't afford to fork up money for a commercial product.
WinX DVD Ripper works on Windows 98/NT/2000/2003/XP/Vista/7. You can download WinX DVD Ripper from the following link:
Disclaimer: Please note this article is for informative and educational purposes only. I am in no way encouraging piracy or any other sort of illegal action. Please only use WinX DVD Ripper within the laws of your country. I am not responsible for any illegal activities done by WinX DVD Ripper.
Related Posts