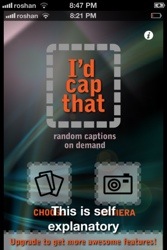 You might have guessed by the name of the app — I'd Cap That — that this app allows you to add your own caption to your photos. If so, you got it wrong. Actually all the captioning is done by the app itself and not by us. The app gives captions to the photos we select, and this takes a lot of the fun.
What is it and what does it do
Main Functionality
The first thing you'll notice on opening the app is the motto for the app "Random Captions on Demand". So what this app does is, it asks us to choose a photo and once done, they give a random caption to it. The app should rightly be renamed as "App'd Cap That" as the captioning is done by the app, not "I".
Pros
Easy to use and pleasing interface
You can choose to take a photograph or use one from your Library or Facebook
Sepia and Greyscale filters available for the photos
Several sharing options including FB Sharing, Tweeting, Mailing, and Saving to Library
Cons
It doesn't allow the user to add their own captions
The random captions given by the app are funny… once in a million times!
The free version is feature-limited. You have to upgrade to Pro Version ($0.99) for more features.
Discussion
The interface is easy to use and you do not need a degree to master the app. The home screen gives the option to take a picture or to choose an existing image. Once the photo is selected, a random caption appears in the picture, and you have 2 filters and sharing options for the new image.
The various social sharing options are appreciable. Most photo editing apps don't have the option to import images directly from Facebook but this app does, so it is somewhat unique in that regard.
Only two filters are provided in the free version; you have to upgrade for more of them.
The biggest thing I don't like about this app is we have no role in captioning. I would have ignored this problem if the captions provided by the app were funny and related to the photo provided. But here, the captions are completely random and unrelated to the photo provided, unless by luck the caption matches the photo. Check it out: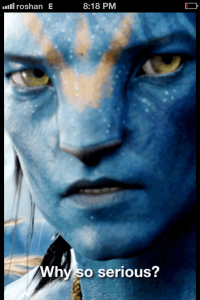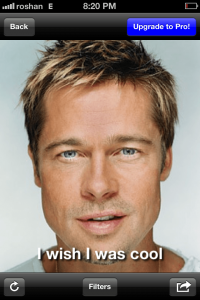 If you are not satisfied with the caption, you can press the refresh button for a new caption, which is neat feature. But there is a catch in this, you can do only two refreshes at a time for a picture. For unlimited refreshes, you know what to do — you have to upgrade.
Conclusion and download link
To conclude, I am very disappointed with the performance of this app. Although provided for free, this app makes all efforts to push us to the paid version. Even with the paid version, I do not think it will be worth the dollar that is asked.
Price: Free with an upgrade of $0.99
Version reviewed: 1.50
Requires: iPhone 3GS and above, iPod Touch 3rd gen and above, and iPad — iOS 5 and up
Download size: 5.6 MB
I'd Cap That on Apple App Store
Related Posts