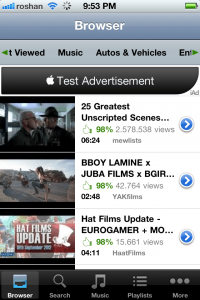 YouTube is the largest video sharing site in the world — 6 hrs of content is uploaded each minute to YouTube. With the ever-shining YouTube on one hand and the removal of native YouTube app from iOS 6 on the other, YouTube apps have sprouted in the App Store like mushrooms in the rain. In this scenario finding a free yet powerful tool for YouTube has been difficult. Here comes Play Tube Free – Best YouTube Player.
What is it and what does it do
Main Functionality
Play Tube is a free YouTube client for iPhone which brings the latest and most popular videos to your fingertips
Pros
Watch videos instantly
Cache videos to watch offline
Comes with Top 100 playlist and you can create your own
Video playback continues even after device is locked, which is good when you want to listen to the audio of a video but not see the video
TV-out and AirPlay mirroring support
Cons
Free version is ad-supported
No option to login to YouTube to manage your account.
No option to change the quality of the video according to data speed
No option to share videos to Facebook or Twitter
Discussion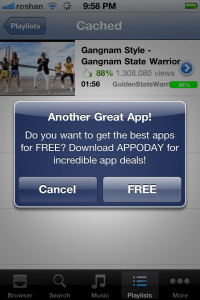 Play Tube satisfies the basic needs you require from a YouTube client. Sorting videos by category and the efficient search feature makes it easy to find what you are looking for.
Although an app for viewing videos, a lot of thought has gone into watching audio-oriented videos, such as a speech or music. The app has features like "Top 100 music videos" and the ability to playback audio even after locking your device or switching  to another app.
Like many other free apps I have reviewed, this one is an ad supported lite version of the full App. For the most part the ads are well placed but there are occasional popup ads (such as what you see in the above screenshot). The popup ads are really annoying as they require user action before withdrawal. You can remove ads with a $0.99 upgrade within the app.
This app is a failure for YouTube publishers like me because there is no YouTube login involved. Hence, we cannot manage our accounts or view our own videos, aside from searching for them. For people who don't publish their own videos, there are also drawbacks with not being able to log into your YouTube account because you cannot favorite or even comment on a video.
Lastly, Play Tube doesn't have any sharing features. For example, sharing to Facebook and Twitter, and sharing by e-mail or copying links has become indispensable for any app in the App Store.  But, Play Tube seems to think different as these sharing options are absent.
Conclusion and download link
Whether you should own this app is really up to your requirements. If you are really a music video lover, this one is for you. But, if you are a YouTube publisher and like to manage your account, this app is surely a no-go. If you just like to watch some videos occasionally, I recommend the native YouTube app (iOS 5) or the official YouTube app (iOS 6).
Price: Free with a $0.99 upgrade
Version reviewed: 1.0
Requires: iPhone, iPod Touch with iOS 4.0 and up
Download size: 3.6MB
Related Posts