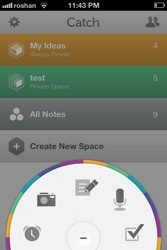 Catch Notes from Catch.com enables you to quickly jot down your ideas and capture them for later. Never forget that "eureka" moment again, with Catch Notes.
What is it and what does it do
Main Functionality
Catch Notes is basically a note taking app where you can store any data for later use. You can use it to capture evanescent ideas, reminders, real time pictures, a tune for you next song, or anything at all.
Pros
You can create notes, reminders, and checklists
Capture a picture or record your voice
Efficient checklist feature
Share content with other users to collaborate your actions
Hashtag feature allows you to search your content
Sort your ideas into different spaces
Can sync across different devices (requires Catch account)
Has a passcode locking security feature
No ads
Cons
Discussion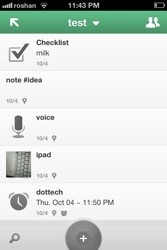 Catch reserves its spot as one of my favorite note taking apps and the fact that it is free is a cherry on top. We have seen a lot of amazing apps like Evernote for taking notes, Milk for checklists, and many other reminders app. Catch Notes brings all these features into a single app — kudos to the developers.
You can create multiple groups called spaces and use the capture wheel to select what type of content you want to add in each space. You can add a note or a reminder; remember you milk with the checklist feature; capture any pic and include a note describing it; and also record your voice in the midst of a class or when you compose the next chart topper.
Hashtag makes it easy to search content content, later on.
On a first look, the collaborate feature may look dull and useless. But in practice, it is a sensible and essential feature for such an app. For example, you can collaborate the checklists with your wife or roommate and split the work in an efficient way. There is even a passcode lock feature you can use to prevent the bad guys from stealing away your ideas!
Overall, the only annoying aspect of the app is the interface. The app has a minimalistic design which pleases the eye. But on further look, it turns out to be a bit confusing, so much so that it left even me (who has used plenty of such apps before) craving for a tutorial. Quiet surprisingly, they have forgotten to include even an optional guide for using the app. But, once you figure out the basics, it is a pleasure to use.
Conclusion and download link
To conclude, there is nobody who would find this app useless. There is something for everybody and its for free. What's harm in checking out?
Price: Free
Version reviewed: 5.0.2
Requires: iPhone, iPod Touch, or iPad with iOS 5 and up
Download size: 4.2MB
Catch Notes on Apple App Store
Related Posts