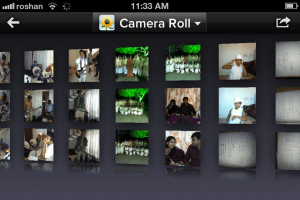 The native photos app in the iPhone/iPad is simple and elegant. But this classic look tends to be boring after using it for some time. You might even envy your buddy with a Galaxy or Xperia because of their amazing gallery apps. Now, prepare to show off your gallery to them, because that is exactly what Cooliris does.
What is it and what does it do
Main Functionality
Cooliris is a gallery replacement app; it allows you to view your photos in more style. It "cools your iris" while browsing through your albums and re-live your memories. Not only does Cooliris allow you to view the pictures in your iPhone or iPad, but all your photos from Facebook and Instagram are also available within the app.
Pros
Awesome user interface with smooth and quick 3D animation while scrolling through the pictures
If you sign into a Cooliris account, you can share photos with other Cooliris users and engage in conversations with them
Has Facebook, Google, and Instagram integration
Cons
Twitter integration is absent
The pinch to zoom function is a little laggy
Instagram shows only photos from 1 month before and not prior to that date
Discussion
Cooliris is one of the best photo viewing apps available. Even some paid app aren't this efficient in managing photos. You will be stunned from the get-go, with the first look you have of this app. The 3D scrolling and the fluid transitions are spectacular.
You can optionally sign into your Facebook account or create a Cooliris account. After that, you can select any photo from your gallery and start a conversation with your buddies. Conversations while sharing photos is innovative and helps to share your tours or events with your friends and family, while talking with them. The Facebook integration also brings all your photo feeds to your app and enables you to share directly on your wall.
Aside from Facebook integration, Instagram integration is present, too. But when you link your InstaGram account, only pictures from 1 month before show up. This might break those dreams of some early Instagram adapters. I hope they fix that soon.
The one integration this doesn't support is Twitter. I can't understand why many apps leave out Twitter from their services. I understand that Twitter integration in a gallery app is not extremely relevant but tweeting a picture is one feature they could have included.
Conclusion and download link
Cooliris is an app for everybody – a free app which does everything you would expect. Even if you think you are satisfied with the native Photos app, just try this one and I assure that you won't regret.
Price: Free
Version reviewed: 2.1
Requires: iPhone 3GS & up, iPod Touch 3rd gen & up, iPad — iOS 5 & up
Download size: 10.5 MB
Related Posts