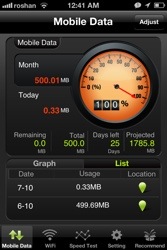 As much as we wish it so, unlimited data plans are mostly of the past. As such, it is always a good idea to keep an eye on your data usage to avoid costly overages. This is where Data Usage Monitor comes into play.
What is it and what does it do
Main Functionality
Data Usage Monitor helps you to keep an eye on your data usage and, when it nears the limit, gives alerts so that you can reign in your usage. In addition to 2G, 3G, and 4G data monitoring, it also incorporates a WiFi monitor and a speed tester.
Pros
Well designed app
Has a mobile + WiFi data monitoring
Has a speed tester
Real-time monitoring
Representation of data is available in graph and data formats
Provides projected data to give us a rough idea of future usage
No ads
Cons
The initial setup is confusing
Only single monthly plan monitoring is available — multiple packages per month (e.g. weekly packages) cannot be monitored well
Data speed throttling plans cannot be monitored well
The alerts pop up once a minute, which is annoying!
The speed test doesn't show upload speeds
Discussion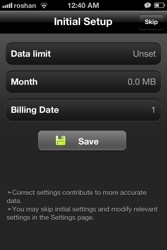 Data Usage Monitor is a master at its work. The accurate data enumeration and graph representations are breathtaking. The representation as a percentage meter with changing colors shows us the status without the numbers. If its green, you're good and if its red, trouble! Projected data is another useful feature and essential for such an app.
The first time you open the app, it shows a not so clear initial setup. Once past that, a new page with Mobile Data, WiFi Data, Speed Test and Settings fill the screen. Also, a recommended app section shows some featured apps which compensates for the ad-less interface, which is something we like.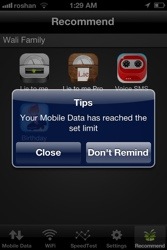 Another neat feature is the real time monitoring where it takes account of the current session data usage in real time… whereas in many other apps I have seen that you have to turn off mobile data for the latest usage stats.
The WiFi usage monitor works as advertised but the speed check doesn't show upload speeds. Also, the app cannot be setup for throttling plans (where you have maximum speed upto xGB and throttled speeds after that). Besides, monitoring is available with the assumption of one month billing. Half month or multi-month billing cannot be setup. So this is likely only useful for people with post-paid plans, not pre-paid ones.
Conclusion and download link
To conclude, Data Usage Monitor is one of those apps where you get more than what you need and that too for free. If you are on a limited usage data plan and are occasionally greeted with extra bills, this is the app for you!
Price: Free
Version reviewed: 1.7.2
Requires iPhone, iPod Touch or iPad (2x mode) with iOS 4.0 and up
Download size: 3.4 MB
Data Usage Monitor on Apple App Store
Related Posts