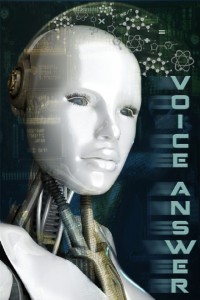 As evident by the title, Voice Answer is a Siri alternative. If your iDevice do not support Siri or Siri doesn't recognize your dialect or if you simply don't like what Apple has provided, this app comes into the act. Ask her to play a video or to post to Facebook or to send a text and she won't disappoint!
What is it and what does it do
Main Functionality
Voice Answer is simply a female bot assistant whom you issue voice commands to, such as asking questions or telling it to do a task. The app connects to a server online to find what you need, so you need an active internet connection to use this.
Pros
Easy to use
Recognizes different dialects
Optional keyboard input
Variety of commands available
The sound of the bot is appealing (must be a guy thing)
Has ability to record conversations
Cons
Ad supported free version
Doesn't answer all questions, unless you upgrade ($1.99)!
Crashes regularly
Lags a little, even over WiFi
Discussion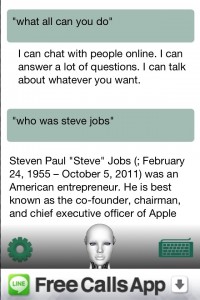 The first look on opening the app might impress you with a 3D animated picture of the bot. The excitement subsides soon as it gives away to a blank dull interface, with options to tap the face to start conversation, keyboard input, and settings.
According to the developer, this powerful bot can help you
Translate to 54 languages
Play Eminem from your library
Set reminders
Post Whats on your mind to Facebook
Google it!
Search the nearest restaurant!
Text your wife or email your boss
Call home
And lots more!
All these things are done via conversations with Voice Answer that are similar to those with Siri, and we have seen more than enough Siri videos to know what that is. Although the optional keyboard input and ability to record conversations of Voice Answer are missed in Siri, the intrusive ads and regular crashes pull Voice Answer down.
I've tried a lot of the claimed functionality (in English) and it works similar to Siri, for the most part. However, despite these amazing features, the free version buyers are kept in the dark because the free version isn't as "intelligent" as the paid version. The developers themselves admit:
The free version does not have an actual knowledge base behind it and hence, you may get strange answers to your questions
Conclusion and download link
To conclude, this app can be used as a show off app for those who do not have Siri, but I wouldn't expect it to get my things done… which is what can be said for all voice command apps. If you are considering this app because you are not satisfied with Siri, I must stress that you ain't getting anything better in the free version. If you are really looking for an upgrade from Siri, you may want to swing some bucks for the paid version.
Price: Free, and a Pro Version of $1.99
Version reviewed: 2.07
Requires iPod Touch, iPhone and iPad (fully compatible) with iOS 4.3 and up
Download size: 32.2 MB
Voice Answer Lite on Apple App Store
Related Posts