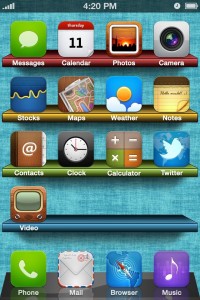 Is your homescreen boring? Want to customize it? Home Screen Maker assists in giving unique and stylish looks to your iPhone.
What is it and what does it do
Main Functionality
The app allows you to pick from a variety of shelve styles, icon skins, and backgrounds to create a homescreen wallpaper/skin for your amazing phone.
Pros
Variety of customisations available
Descriptive HowTo guide.
Nice preview option
Cons
App is a castle of ads
Awful interface
Discussion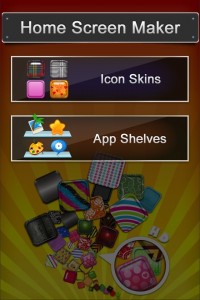 When you first run this app, you are prompted by a (ugly) page that wants you to choose whether you want wallpaper based on icon skins or shelf styles. If you select icon skins, the next page gives you options to change the background, frame, preview, and to save your custom wallpaper. You can also select the grids where you need the skins according to your icon arrangement. On the other hand, if you like to shelf it up, you can change the background and the type of shelf, preview it, and save it.
Both pages have instructions for designing your wallpaper and… also a link to ads! Once you preview the design that you like and save it, you can go to the gallery and set it on your homescreen.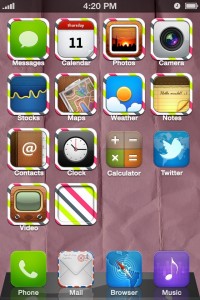 The preview option which allows you to see how your skin/wallpaper will look before you use it, is the most loved feature while the ads are just annoying. There is a completely obstructive ad on every page and each page contains a link to more ads. The developers apparently wants to squeeze as many clicks as they can from the free app; maybe they want to buy a Ferrari.
Conclusion and download link
To conclude, this app isn't too bad. Aside from the excessive ads, you can create fairly good wallpapers with it. On the flip side, I have used other similar apps that are better, such as Pimp My Screen. If you don't like the competition, Home Screen Maker is something you can give a try. If you really want to bite your apple, I suggest that you jailbreak it and take advantage of apps that will really allow you customize, such as video wallpapers, scrolling wallpapers, etc.
Price: Free with ads. No upgrade available. It's funny because both lite and full versions of the app are currently free.
Version reviewed: 2.1
Requires: iPod Touch or iPhone with iOS 4.0 and up. Also works in 2x mode on the iPad, but it is of no use, as the wallpapers aren't compatible.
Download size: 18.5 MB
Home Screen Maker on Apple App Store
Related Posts