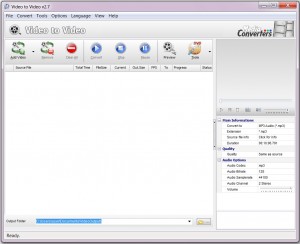 Be sure to check out dotTech's review on Best Free Video and Audio Converter for Windows!
Windows Media Player's inability to support a large number of media formats means that people who use it to watch videos on their computers often have to skip watching some of the videos that they like simply because the video are in a different format. Even though there are a number of versatile Windows Media Player alternatives that support a number of different formats, the increasing use of smartphones and televisions, which often support only specific video formats, means that having a good program to convert videos into different formats is essential. This is where Video to Video Converter comes into play.
WHAT IS IT AND WHAT DOES IT DO
Main Functionality
Video to Video Converter is a portable program whose basic function is to convert videos into different formats. The program also comes with a number of other features, including the ability to split/join videos, built-in DVD ripper, subtitles support, and ability to burn video DVDs.
Pros
Supports a large number of input and output audio and video formats
Has built-in DVD Ripper, Video Joiner, and Video Splitter
Can join/split without re-encoding
Ability to add watermarks and subtitles
Has built-in tools for burning video DVDs
Works well
Is portable
Cons
Makes you to choose preset values when customizing video and audio output settings, as opposed to allowing you to manually enter values (e.g. video resolution)
No 2-pass encode option
Discussion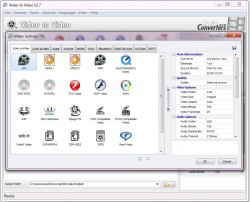 Video to Video Converter is an excellent free program that takes care of almost all of your video needs. The program has a number of different uses, be it converting a video or an audio file to another format, joining or splitting video files, or ripping or burning DVDs. The converter also supports dozens of output formats and can be used to convert videos into a number of popular formats including AVI, MPEG4, XVID, MPEG2, MOV, MKV, FLV, SWF, 3GP, GIFF, DIV, MP3, etc. For a full list of supported input formats, click here; for a full list of supported output formats, click here.
The interface of the program is fairly easy to understand. Once you add the video that you need to convert, the Video Setting screen immediately pops up. Here you can select from a huge number of output presets, including the ability to convert the video so that it is compatible with Apple iDevices or a number of Android phones available in the market. You can even convert the video so that it can be loaded onto YouTube.
While inexperienced users can simply select their required format and go on for the conversion process, more experienced users can tinker with the output profile, including increase or decrease the audio volume, change the video codec, size, bitrate and framerate, and add subtitles.
Moving away from the basic conversion option, Video to Video Converter provides a number of different tools as well. The Tools button allows users to join audio or video files, split video, and burn video DVD. To split a video, one has to simply load the file which is to be split, select the start and end positions, and then press the OK button which takes the user back to the Video Settings screen to select output format. Burning DVDs is similarly as easy.
Conclusion and Download Link
Video to Video Converter is an excellent program which is easy to use and comes with a huge number of output formats. Inclusion of tools beyond video converting makes this a useful program for those who like to customize their videos or watch them on multiple devices.
Price: Free
Version Reviewed: v2.7
Supported OS: Windows 2000/XP/2003/Vista/Server 2008/7
Download Size: 18.2MB
VirusTotal Malware Scan Results: 0/41
Portability: Installation not required
Video to Video Converter download page
[via Ghacks]
Related Posts