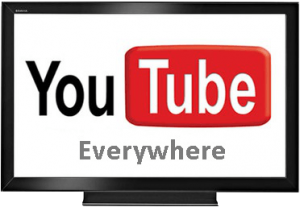 Sometimes websites have YouTube videos embedded, allowing you to watch the video(s) without having to go to YouTube's website. However, what happens when you are simply given a link to a YouTube video, such as in an e-mail or on a website that doesn't embed? In situations like these, yo obviously have to go to YouTube's website to view the video. YouTube Anywhere Player changes that.
What is it and what does it do
Main Functionality
This addon gives users the ability to watch YouTube videos from any website, such as Gmail, without leaving the website. This is done by YouTube Anywhere Player opening YouTube videos in a Lightbox-like screen (that is overlayed the current website you are on) whenever you click on a YouTube link. Once you are done watching the video, you simply close it by clicking the grayed out background and you are back on the website you were on before — you never go to YouTube.com.
Pros
Allows you to watch YouTube videos without having to go to YouTube's website
Grays out the background so it doesn't distract you
Can render YouTube videos in HTML5
Cons
Only works with direct YouTube links (e.g. youtube.com and youtu.be links) — does not work with URL shorteners
Discussion
When I first found this add-on, I was a little skeptical because I have been a been fan of YouTube Enhancer Plus and thought this couldn't provide anything YouTube Enhancer Plus doesn't already. However, after using this addon for a while I was able to see some benefits to it.
More specifically, with this add-on you don't have to go from the website to YouTube whenever you click a YouTube link — this add-on opens YouTube video right on top of the website you are currently on and allows you to easily go back to that website (i.e. saves you the time it would take to otherwise switch to YouTube.com and then go back) when you are done watching. In essence, it makes your life a bit more simple by adding more complex functionality to your browser (paradox?).
As an added bonus, if you go to the settings for this add-on from Firefox Add-on Manager, you can enable an option that tells YouTube Anywhere Player to play YouTube videos in HTML5.
However, there is one major problem with this add-on.
You see this add-on only works with direct YouTube links in the form of youtube.com or youtu.be — it won't work with YouTube videos that are being shared via a URL shortener. Even Google's URL shortener does not work with this. This is a huge problem for me, and I'm guessing many other people, because most of the YouTube links I come across aren't direct YouTube links but rather URL shortened YouTube links.
Personally speaking, to improve this addon I would make it so that it works with URL shorteners (at least the popular ones) and I would add support for Opera and Internet Explorer. However, I do have to give the developer credit in that he frequently updates this add-on.
Conclusion and download link
This add-on works but in a limited capacity — the link has to be direct from YouTube which is a huge disappointment. While I won't personally be using this, the idea behind this add-on is good. Feel free to grab it if you want it.
Price: Free

Version reviewed: 2.1
Requires: Firefox 12+
YouTube Anywhere Player for Firefox
Related Posts