If there is one major complaint against Microsoft Office, it is the lack of tabs, especially among the later versions of the office suite. With all of the major browsers, including Microsoft's own Internet Explorer, implementing the tabs, it is disappointing to see that Microsoft did not choose to include it in Office 2007 or Office 2010. While there are other free office suite alternatives that offer the feature, a vast majority of MS Office users would prefer a program like Office Tab that simply adds tabs to Microsoft Office.
WHAT IS IT AND WHAT DOES IT DO
Main Functionality
Office Tab is a free Windows program that adds the ability of tabbed browsing, reading, and editing to MS Office versions 2003 to 2013.
Pros
Adds tabbed browsing feature to Microsoft Office 2003, 2007, 2010, and 2013
Allows users to save all open documents with just one click
Users can combine linked documents to a single group
Has a "Rename" feature for the purposes of quickly renaming a document
Cons
Free version is feature-limited and available for free for non-commercial use only
There is some lag when opening or closing documents
Discussion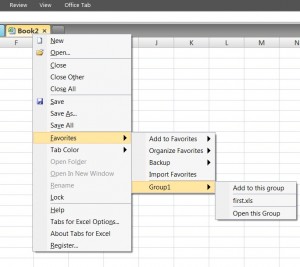 For those who constantly use Word, Excel, PowerPoint, Publisher, Access, Project, or Visio the lack of a built-in tabbed feature for MS Office is a sore point. Some of the other free alternatives for MS Office, such as Kingsoft Office Suite, do offer the ability for tabbed browsing but uninstalling Microsoft Office just because other office suites offer tabbed browsing would be similar to tearing down a house simply because you don't like the window decoration.
Fortunately, installing Office Tab allows you to add tabs to MS Word, Excel, PowerPoint, Publisher, Access, Project, and Visio. Once you download and install the program, it adds a tabs toolbar just below the ribbon (or below the menu, if you are on Office 2003). From this toolbar you can access any number of documents that are currently open, with a helpful asterisk just above the document names that are new or have been modified and not saved.
Right-clicking on a tab offers a number of options, such as the ability to quickly rename the file and change the tab style and color. You can also group different document tabs together belonging to a single project by using the Add to Favorites feature.
To save a group of documents as a group, simply right click on a tab and go to Favorites > Organize Favorites > Organize Word Favorites. Click on New Group button to create a new group. To save documents in the group, right click on their tabs and, from the Favorites menu, hover the mouse pointer on your newly created group name and click Add to this Group. You can open, save, or close all of the documents belonging to the group by selecting the required option from the menu. You can even add Excel or PowerPoint files to your group provided you had used the Organize Office Favorites option.
While Office Tab adds a major feature to MS Office, one noticeable problem is its performance issue. The program slows down opening or closing Word, Excel, or PowerPoint and the issue is compounded on low performance computers.
Also note there are three versions of Office Tab: Enterprise, Standard, and Free Edition. Enterprise costs $35 and has all the features mentioned above. Standard is $25 and has all the features mentioned above except it only adds tabs to Word, Excel, and PowerPoint — not Publisher, Access, Project, or Visio. Free Edition is free for non-commercial use, only adds tabs to Word, Excel, and PowerPoint and is feature-limited — it can modify the change and look of tabs but it cannot use the Rename feature, grouping feature, etc.
Conclusion and Download Link
Office Tab is an excellent program that plugs one major hole in Microsoft Office. While it will be of a great help for those who use Word or Excel on a regular basis, its performance issue could be a problem for some. If you feel like you want tabs in MS Office, give this program a go — you can always uninstall it if it lags too much.
Price: Free (for non-commercial use only, $25, $35

Version Reviewed: v9.20
Supported OS: Windows XP/2003/Vista/Server 2008/7
Download Size: 12.3-20.20MB
VirusTotal Malware Scan Results: 0/44
Portability: Not portable, installation required
[Thanks Mike!]
Related Posts