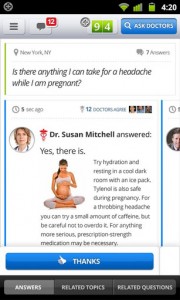 HealthTap is an application designed to put any health information you need only seconds away. This application can be very useful for families who are always on the go. It can also be great just for personal use or curiosity.
What is it and what does it do
Main Functionality
This application is supposed to make simple health issues simpler and easier to understand. It is designed to be a one-stop app for any and all health needs.
Pros
Answers from 15,000 U.S.-licensed doctors
Start private conversations with doctors in a safe, HIPAA-secure environment
Privately share scans, images and other health related documents
Make local appointment requests
Personalize a constantly updated news feed
Store immunizations, allergies, and documents
Cons
Some questions can take awhile to get answered
Questions limited to 150 characters
Discussion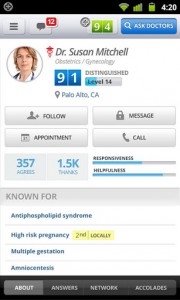 HealthTap is truly a one-of-a-kind application. HealthTap will allow you to ask questions to well over 15,000 registered doctors in the United States. While some of the questions take a little bit of time to get answered, most of the answers are detailed and well thought out. Unfortunately, when you ask a question, you must limit it to 150 characters. This of course keeps you from being too detailed. You can of course submit multiple submissions.
Once you find a doctor that you want to speak with more, there are several benefits you can gain. With HealthTap, you can actually start a private conversation with a real doctor. Within this conversation,, you can send the doctor scans, images, and health documents. This will allow the doctor to give you more personalized help. In addition, you can make an appointment request if you find a doctor in your area.
HealthTap also acts as a feed for the latest health information. You can set up a personalized feed to give you the latest news on the areas of health that interest you the most. In addition, you can store immunizations, allergies, and health documents. This will allow you to completely track your health life by always knowing what's going on.
Conclusion and download link
As you can see, there isn't a whole lot of missing features from this application. This app is extremely thorough and informative. It seems as though the developers have thought of just about everything. This application can be a true lifesaver for those who do not have access to doctors. However, just about every single Android user could absolutely benefit from the information this application presents.
Price: Free
Version reviewed: 4.0.7.1
Requires: Android 2.2 and up
Download size: 7mb
Related Posts