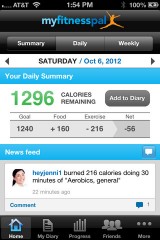 Dieting is not easy. You need to be 100% committed and even then, it is hard to stay with it. What many people don't understand, though, is that you might not need to change all the foods you eat and do a tremendous amount of exercise to lose weight. There is one calorie total for every person, based on age, height, weight, and your activity level, that represents the point where you break even for a certain day. If you go over, then you run the risk of gaining more weight. It is very possible, that one specific food you are eating might be vaulting your calorie count over that line, so a simple change in your eating habits might be all the difference you need. Calorie Counter & Diet Tracker by MyFitnessPal can help you find those offending foods and fully educate you on how to lose weight without necessarily making a drastic change to your life.
What is it and what does it do
Main Functionality
MyFitnessPal allows you to count your calories and provides a set calorie count per day for the purpose of losing weight.
Pros
Counts calories in a nicely designed user interface
HUGE database (over 2 million) of foods with corresponding calorie count and nutritional value
Fast and easy-to-use entry of foods; use the search engine or handy barcode scanner
Provides the ability to save entire meals; app also remembers your most frequently consumed foods automatically
Tracks your daily progress by your food intake and inputted weight
Ability to add all three meals, snacks, water intake, and any exercise to your daily routine
Fully synced across all your devices and website
Optional social network where you can diet with friends
Cons
Entering all of you food intake might be gratuitous for some
Discussion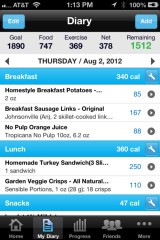 I just want to start by saying that I am not a dieter. My diet is too restrictive to eat those special meals and I definitely don't want to exercise myself to death every day either. To me, dieting always seemed like too much of a change to my daily life. That is why I was skeptical when I first started reviewing MyFitnessPal. The thing is, this app is not entirely about special meals or killing yourself at the gym. It is simply about finding the major problem areas in your diet.
When you first enter the app, you will asked for a bevy of relevant information, such as your birth date, height, weight, and level of typical activity. MyFitnessPal uses this information to calculate a specific calorie count that represents the point where you shouldn't go over if you want to lose weight. The app then has you enter everything that you eat into a daily diary table either by searching for the food or using a tremendously useful barcode scanner. You can enter it under the breakfast, lunch, or dinner categories, or a useful snack category. All you need to do is enter the approximate serving size, which the app guides you through quickly, and the food will be entered.
The key here is after a few days of doing this, you start to fully understand why you stay at a certain weight or gain some here or there. The foods you enter have calorie counts next to them in the table, while the sections (breakfast, lunch, dinner, snacks) also have total calorie counts, so you literally see where the problem foods are. So, for example, my total daily allowed calorie intake is 1780. I noticed that the breads I was eating were accounting for over 900 calories of my daily intake a day, pushing me to go over my allowed intake by at least 200 calories. Wow! All I needed to do was find a healthier bread and I was set. To me, that was not a big deal, because most breads taste pretty good. So I was able to keep the same relative diet, but just tinker here and there and it got me to where I needed to be.
In my opinion, the only drawback to this app is whether you have the time to enter your information. Fortunately, MyFitnessPal does a great job of simplifying the process by allowing you to save entire meals, which is tremendously useful given that most people make similar meals every week or even every day.  The app also remembers your most frequently consumed foods automatically, so you can quickly pick them from a list instead of searching for them every time. I also cannot tell you how incredibly useful the barcode scanner will be when using MyFitnessPal. Instead of searching through the database, the scanner gives you the exact food you are eating immediately. And, by the way, I have not run into a missing item from its database yet.
It is worth noting that MyFitnessPal also has over 350 exercises in its database that you can enter into your routine on any random day. This will create a better estimate of your calorie gain for the day. The app also provides daily nutritional summaries and detailed reports on its website. You also have the option of connecting with your friends through the app and motivating each other to lose weight. Though many keep their weight personal, don't underestimate the power of motivation from others that are trying to accomplish the same task.
Conclusion and download link
MyFitnessPal is an excellent calorie counter and weight loss tool. With an average 5-star review of over 4500 ratings for its current version and an average 4.5-star review of over 280,000 ratings, it is clear that the app's users agree. If you are dieting now or have ever thought of doing so, I would strongly suggest you give this app a try!
Price: Free

Download size: 18.9 MB

Requires: iPhone/iPod Touch/iPad; iOS 4.0 and up

Calorie Counter & Diet Tracker by MyFitnessPal on iTunes
Related Posts