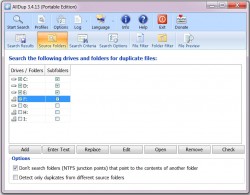 The chances of your computer having duplicate files, be it due to installation of programs or creating documents, is high once you have used the computer for some time. It is often difficult to identify what is a duplicate file and what isn't. This is where a program like AllDup is useful.
WHAT IS IT AND WHAT DOES IT DO
Main Functionality
AllDup is a free software that scans for, finds, and deletes duplicates of any type of file on your computer.
Pros
Scans and removes duplicate files
Provides multiple criteria to use to find duplicate files, including byte-by-byte analysis
Can add an entry to right-click context menu for on-the-go scanning
Duplicate files can either be deleted permanently, sent to Recycle Bin (i.e. deleted temporarily, copied, moved, or renamed
Is portable
Fairly fast
Cons
Necessitates scanning individual files before it decides which of them are duplicates (i.e. double scanning)
Has a slight learning curve thanks to poorly designed, busy interface
Discussion
AllDup is a very useful software for those who have a large amount of data on their hard drives and have no idea how to find out whether there are duplicate files on your system. AllDup developers offer two options for downloading the program, an installer version and a portable version. After downloading your preferred version and launching the program, you will be presented with a fairly simple user interface.
To start a scan, simply select the location that you want AllDup to search, tick whether you want the program to search sub folders as well, specify the search criteria, and press Start Search near the top right corner. AllDup quickly scans the drive and presents the files that it thinks are duplicates.The search criteria that you can assign are File Name, Extension, Last Modified Date, Size, Attributes, and more.
After selecting the files which you believe are duplicates, simply press the File Manager button which is located just below the menu bar at the top. You will then be presented with various options that you want the program to perform, such as delete the files, move them to a separate folder, rename the files, or remove them to the Recycle Bin.
One thing to keep in mind when using AllDup is that the genre of duplicate file finding is inherently flaws. The reason being is often times duplicate files are necessary for the proper function of programs. For example, two programs may have the same DLL file in their folders because both need it. If you were to remove one of the DLL files, one of the programs would stop working. AllDup is no exception to this rule. While AllDup while find files it thinks are duplicate, it has no intelligence so it cannot tell you if the duplicate files are removable or necessary — it is up to you to decide if you should remove the files or not.
Also, keep in mind when searching for duplicates is that even if both the name and file extensions are the same, it does not mean that they are duplicates of each other. Hence it is always important to open the duplicate files or the file location before deciding to mark them as duplicates.
One tip I have when searching for duplicate files is to not search your whole C:/ drive. Rather, only search locations where you, or other users of your computer, store files — such as your Documents or Downloads folders. Only searching user-controlled locations cuts down on the chance of you accidentally delete duplicate files that should not be deleted, namely the ones in Program Files.
Conclusion and Download Link
AllDup is an excellent software to remove the duplicate files that you have and to free up additional space on your system. However the program is not completely perfect; namely, it still bears the flaws of all its brothers — the inherent problem of accidentally deleting duplicate files that are not meant to be deleted. Use it properly and AllDup is extremely useful; use it improperly and you are in a world of hurt.
Price: Free
Version Reviewed: v3.4.13
Supported OS: Windows 2000/XP/2003/Vista/Server 2008/7
Download Size: 3.36MB
VirusTotal Malware Scan Results: 0/42
Portability: Is portable (installer version also available)
Related Posts