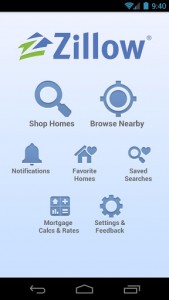 Zillow Real Estate and Rentals is an app that will display real estate and home values on nearly every home in the US. This tool can be amazingly helpful if you are in the market for a new home. It can also be great if you are just curious about how much houses in a certain area are worth.
What is it and what does it do
Main Functionality
Zillow Real Estate and Rentals is designed to make looking up financial information about houses much more convenient. It is also designed to aid you if you are looking to put your own home or property on the market.
Pros
See estimated value of nearly every home in the US
See rent estimates
Search for homes that are on the market and homes that were recently sold
Find price cuts, open houses, and special offers
View homes by list, satellite, or Google Street views
Receive notifications and directions
Mortgage tools
Contact agents
Save and compare favorite homes
Cons
Connection issues
GPS doesn't automatically turn off
Cannot filter listings by type of sale
Discussion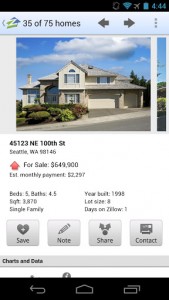 As you can see, there is a lot going on with this app. It will most commonly be used to help you find the home your are looking for or to assist you in selling your own home. It uses your GPS location to find you homes that are closest to you. Zillow will show you the value of homes in a certain area as well as show you what the tenants are paying for rent. This will help you narrow down the location where you want to buy property. You can also see all of the homes that were recently sold, which will help you get an idea for how many people enjoy living in a particular area.
Zillow will also help you stay up-to-date on properties that you have your eye on. It will tell you when the price has dropped and when there are open houses. This is fantastic feature because it allows you to gain more information about the property almost instantaneously. In addition, Zillow will give you access to mortgage calculators and rates as well as personalized loan quotes.
Once you find a home you want to check out, you can get exact location information right on your phone. Zillow will display a list of properties along with a satellite view. However, you can also get a Google Street view of the home so you can see exactly what it looks like. If any particular homes strike your fancy, then you can sign up to get directions and notifications about the property you chose.
A final set of features are essential when you have narrowed down the list of properties you are looking at. Zillow will get you in touch with the right real estate agent to assist you in purchasing the property. In addition, Zillow will save and compare the homes you tell it to. This makes it easy to compare homes at similar prices and of similar size.
There only a few aspects of Zillow that are frustrating. For starters, the connection to Zillow's service can be rather shaky. I find my connection dropping out rather continuously after using the app for awhile. Additionally, sometimes the GPS signal will remain active even after I have exited the application. These flaws can easily be fixed with a more stable update.
Conclusion and download link
There is very little not to like about Zillow. It can be a fantastic tool for buyers and sellers alike. Even the few flaws Zillow has are quite minor and won't cause a problem past the next update. If you are currently in the market for a house or are currently looking to sell your home, Zillow is a must have application. It is like having your own real estate agent right in your pocket!
Price: Free
Version reviewed: 5.0.182
Requires: Android 2.3 and up
Download size: 4mb
Zillow Real Estate and Rentals on Play Store
Related Posts